"…If it feels like a true magic might be possible; it is truly a Blue Moon experience…."
– Isabella Koldras
You have likely heard the phrase Once in a blue moon several times in your life. Where exactly does this originate? In scientific terms there are actually two types of blue moons. The first is a full moon that appears blue because of a specific dust in the atmosphere (such as ash from a fire or volcanic eruption).
The other Blue Moon is the second full moon that occurs in one month. It is this second Full Moon that we're discussing in this article because it is relatively rare, occurring about once every 2.7 years. As an interesting aside, February has no full moon once every 19 years, which is called the Black Moon.
Folklore & the Full Blue Moon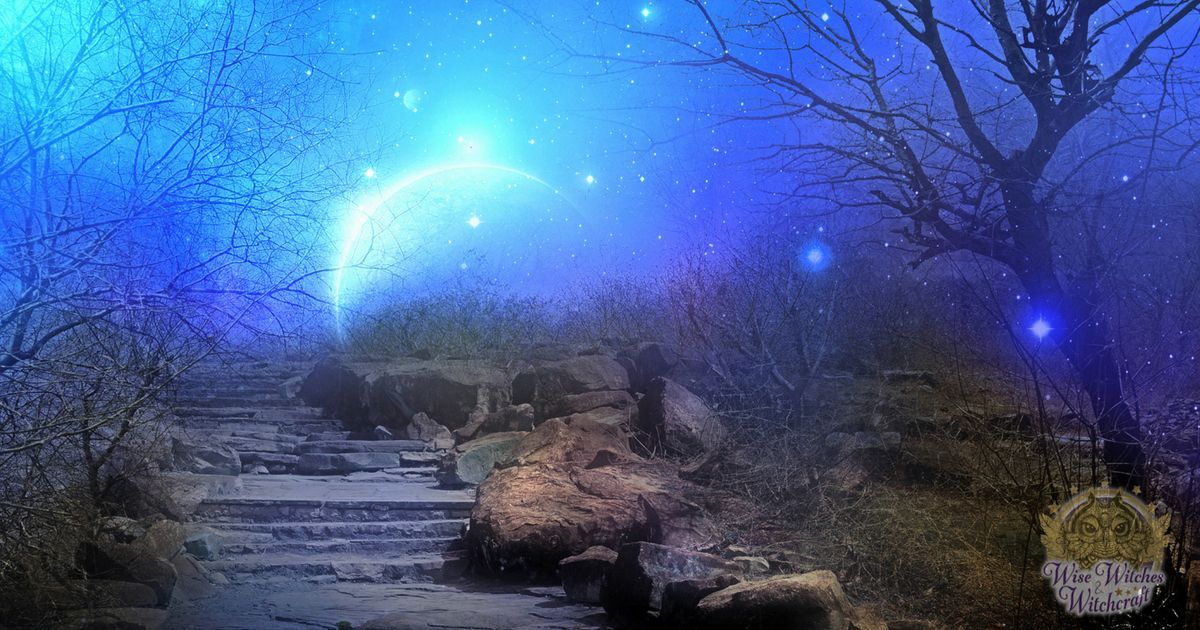 We can thank Shakespeare's writing for the words "blue moon" (appearing about 400 years ago). Depending on your culture, the blue moon might be mysterious and a trickster of sorts. Other people felt that this rare occurrence was lucky. But what about old wives' tales and the such? Yep there are plenty of them, some of which work perfectly well for moon magic.
Blue Moon Superstitions
1. Pick berries and flowers during the Blue moon for love and abundance. Consider drying these and labeling them for future magical use.
2. Turning a coin in your pocket during a Blue moon brings improved fortune and luck (put it on your altar or add it to a charm pouch!).
3. Blue moon energies assist with goals including finding a new job, improving finances, sorting out legal issues and exciting travel opportunities. You might put objects representing any of those goals on an altar beneath the full moon.
4. Work spells for fertility during the three days of the Blue Moon (symbolically this could also be applied to other types of abundance like a fertile garden).
5. Islamic teachers suggest praying for one's well-being during a Blue Moon.
6. If the Blue Moon occurs during an eclipse, doing good deeds results in such being multiplied in your life. This is also a time to resolve feuds.
7. Native Americans see the Blue Moon as a symbol of change.
8. Witches feel that a Blue Moon may hold twice the magic power of the one preceding it. Talk about an intuitive power boost!
An Eskimo Legend
In Eskimo tradition the Sun is female. She is upbeat and inventive. Her energy brings life to Earth and she is beloved of stars and planets. Meanwhile Moon is a man. He hides in the dark peering at the Sun with admiration. He could not be in the sky with her, so he kept to the evening and watched with hope in his heart.
One day the sun Goddess sensed a presence. She asked about the young man observing her from the dark of space. He seemed sad somehow. When asked why, he explained that her beauty was entrancing but he feared that touching her would destroy him.
The sun Goddess promised that he would not be harmed and convinced him to kiss her. The fire from her lips illuminated the moon brightly. Every kiss thereafter made him shine even more intensely. The moon realized that if he continued, there would be two suns instead of one. So, he promised to love her and kiss her regularly but not so much. He left feeling sad, and the shadow of light cast over him was as blue as his mood.
This is one legend of the Blue Moon that's likely associated with the atmospheric anomaly rather than the 2nd full moon in a month, but it's a lovely story nonetheless about honoring the balance of nature.
The Blue Moon and Magical Meanings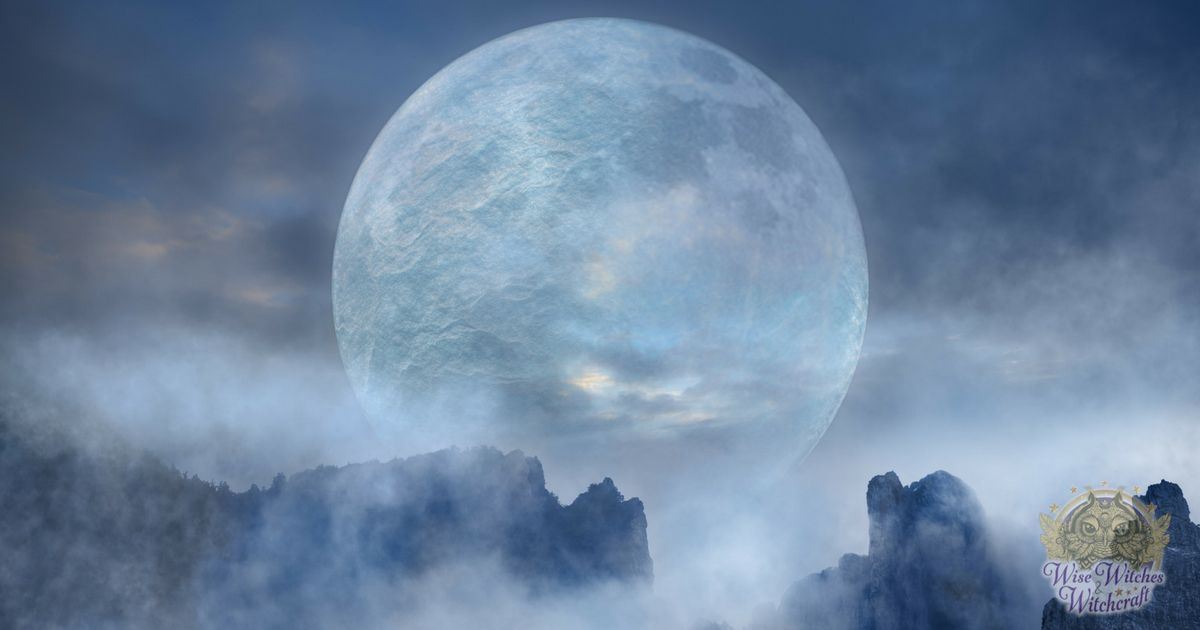 Many Witches and Pagans believe that working magic on a Blue Moon means greater long-term outcomes. This is a chance at a new beginning; a chance for change. Set a goal out to the universe and then start working for it, perhaps with the idea of final manifestation coming by the next Blue Moon. Remember, not all magic is short-term oriented.
Magickal Moonlit Walk
The full moon represents manifestation, providence, and a bit of serendipity. Walk beneath the light of a Blue Moon and let that lunar vibration fill you to overflowing. Perhaps use this walk as the start of your ritual while you create a protective circle. Some of the most common rituals done during the Blue Moon are those for money, connecting with the water element, peace, and charging magical tools of any sort.
Victorious Vibrations in the Blue Moon
The rarity of Blue Moons creates a perfect environment for boosting not only prosperity but also success and abundance (this includes joy, good associates, etc.). For the best results, check a lunar calendar for the exact time when the moon reaches its fullest peak. That's when you should release the energy of your rituals or associated spells to the universe or any Deities you honor.
Color Magic and the Blue Moon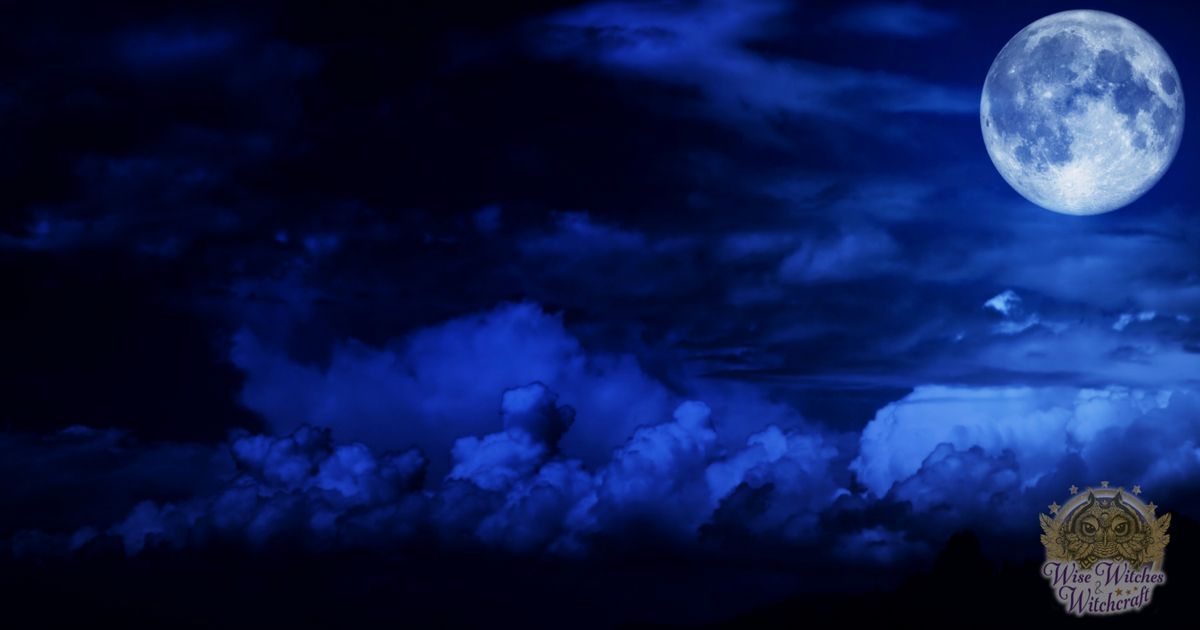 Another approach to Blue Moon rituals is the symbolism of the color itself. Colors each have a specific wavelength and metaphysical association. Blue has strong correlations with trust, wisdom, faith, honesty, and tranquility. It is the marriage of sky and sea, both of which bring mind and spirit into the equation. Blue's considered masculine. Light blues vibrate with health, compassion, warmth and understanding. Darker blues have leadership energies balanced with integrity and genuineness.
With this in mind you might decorate your Blue Moon altar with:
Blue-toned candles
Crystals like lace agate, angelite, azurite, fluorite, labradorite, lapis and sodalite.
Azure flowers and herbs sprinkled around. Possibilities include cornflower, hydrangea, periwinkle, sweet pea, borage, sage and rosemary flower.
Blueberries, blue corn, blue cheese, indigo milk cap mushrooms, Blue curacao, blue raspberry vodka or blue lemonade for the feasting altar.
A blue bowl filled with water (for the Elemental correspondence). You might use this as a libation for asperging.
Cleansing & Recharging Blue Moon Ritual Ideas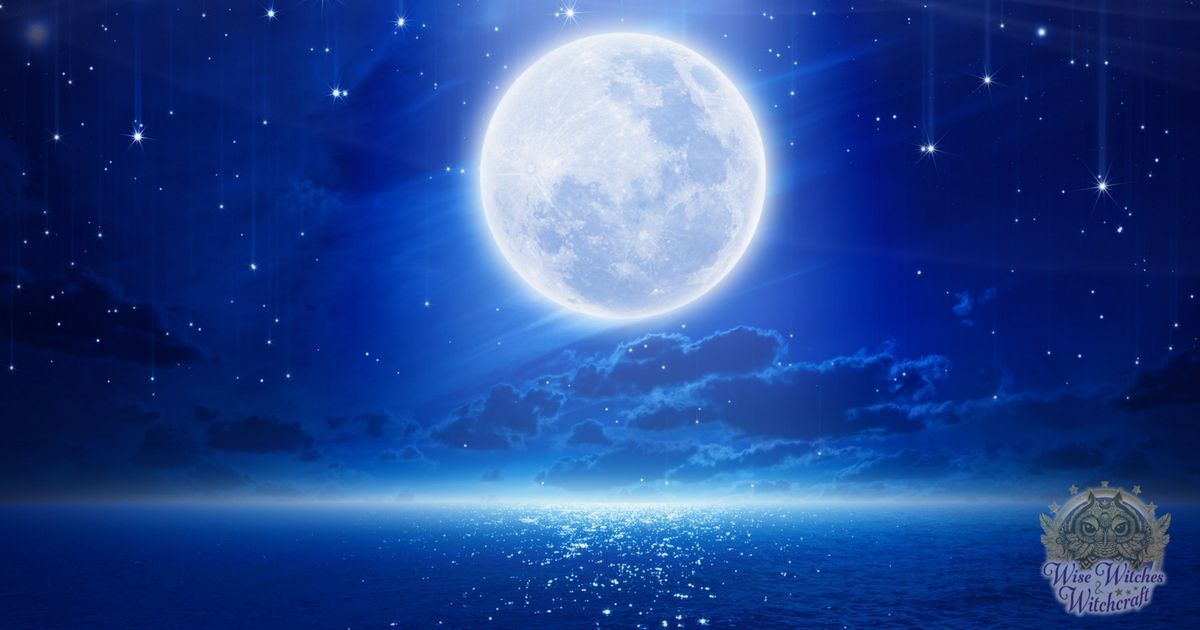 The Blue Moon is an excellent time to cleanse our auras and tools and then recharge both. Purifying our spirits through meditation and introspection is very liberating. You may cry a bit at some of the dark clouds that hide within, but once they are gone – joy and lightness returns.
A good start is taking a shower or bath. This ties to the Water Element and also helps relax you. Let your daily stress wash away. Visualize sparkling lights in the water dancing in your aura from head to toe. Negativity has no hiding place here. To this simple activity, add some aromatics that, to you, represent refinement, protection, and personal peace. There are many options here, so use what is most meaningful.
Now a question. What do you want to wear for your cleansing and recharging blue moon ritual? I advocate something comfortable but also symbolic. Again, there is no right or wrong answer here, but it should be a well-considered decision.
Choosing Tools
Next, what magical tools would you like to cleanse and recharge during your ritual? There is nothing that says you can't magically multi-task! Just as you want to increase the positive spiritual vibes in your life, tools can use regular tune ups too. A simple purification process is that of sprinkling any water-safe tools with a mixture of salt and pure water. Add a blessing of your own making that comes from your heart. These items are sacred. They are part of your "kit" as a magical being. Find the right words for the moment.
If you have other activities planned for your Blue Moon cleansing/recharging ritual remember to declare that intent. Just like a script, the Universe is following your cues here. Direct your will and vision accordingly.
General Magickal Influences of the Blue Moon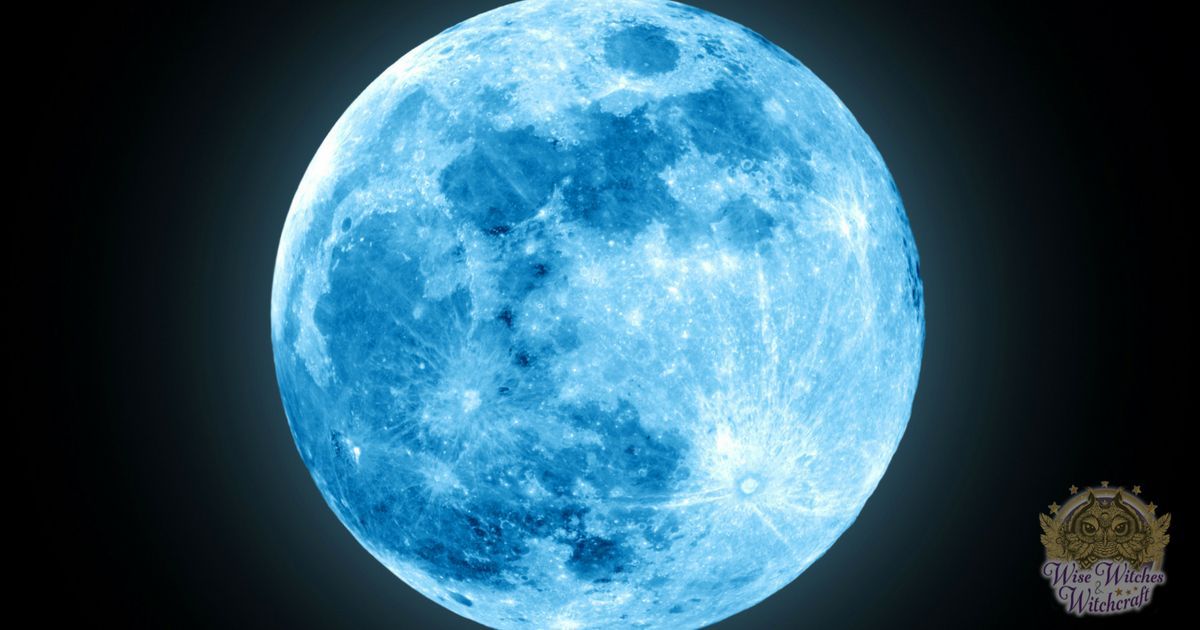 Overall the Blue moon creates a natural ambiance for ridding yourself of thought forms, habits and practices that aren't healthy any more. Every day you grow and change as a person, and your spirit grows too. Figure out what you wish to release so you are ready to embrace something fresh and new. This is the time to put energetic patterns in place that support your present and future goals.
Once you are done, make notes of your ritual in your Witch's Spell Book. If you liked the way things flowed, you may want to use some of your ideas again in a couple of years.
Happy Blue Moon.