Common Tools for the Teen Witch's Kit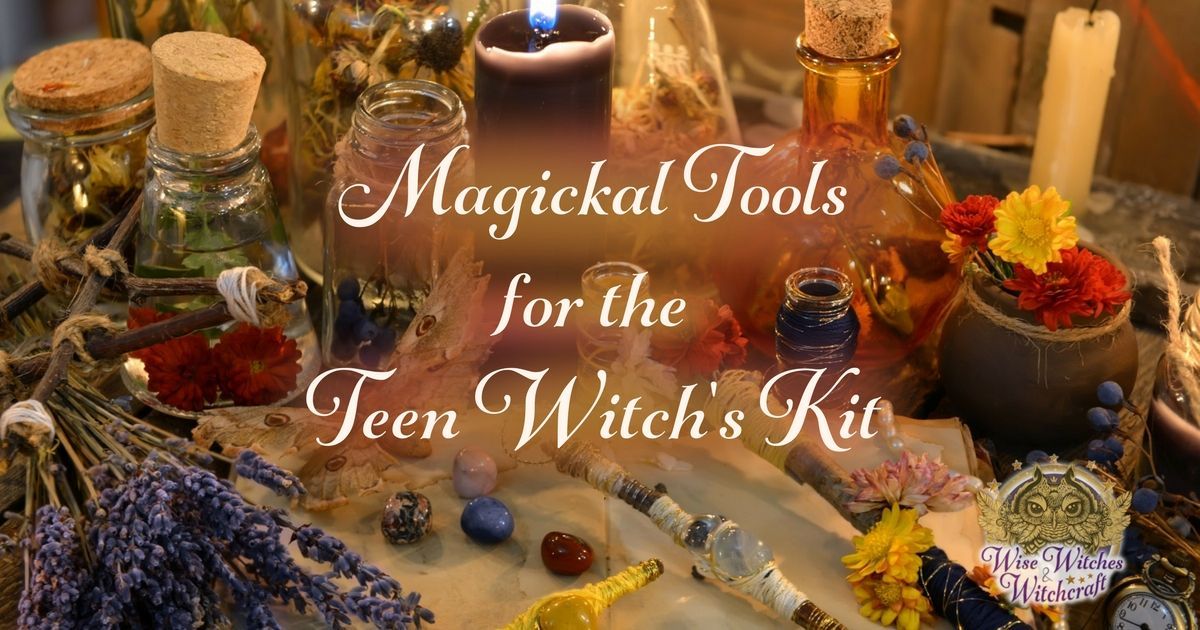 "Accept yourself, your strengths, your weaknesses, your truths, and know what tools you have to fulfill your purpose."
-Steve Maraboli
The Importance of Magical Tools
If you were a plumber you'd have tools like a wrench, plunger. A mechanic has a jack, ratchet, and pliers. But what about Witches? What kind of tools can a Teen Witch use at home without a lot of struggles with household rules? There are quite a few. But why use a tool in the first place? Because it makes things easier. If you try to turn a screw into place with just your hands vs. an actual screwdriver, you have a perfect illustration.
Tools are not "necessary" to magic. They are, however, an extension of it – providing more symbolism to your Witchcraft spells and rituals. Let's take a peek.
Asperger for Purifying Magical Sacred Space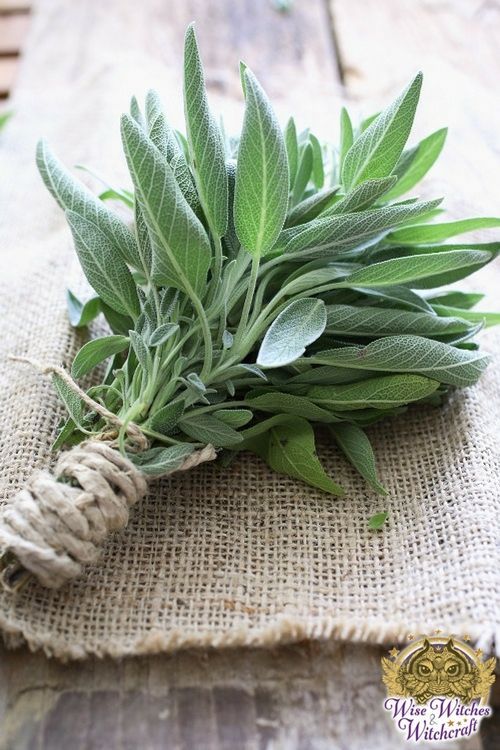 This is just a fancy word for anything that you use to sprinkle water around the sacred space, clearing away unwanted energies.
Feathers, leaves, brooms, and herb bundles work for this purpose. I
f you wish can add a few drops of aromatic oil to the water for more symbolic value. For example, if your spell or ritual is focused on helping you with school-work, add a few drops of rosemary (to improve memory and support the conscious mind).
Generally speaking Wiccans move counterclockwise for this activity because the goal is that of "turning away" unhelpful vibrations.
Witch's Asperger Alternatives
Dipping your fingers in water and flicking it outward
A feather duster
A hose nozzle (for outdoor workings)
A sprinkler (this turns around for you!)
A basting brush
Athame: The Witch's Sacred Knife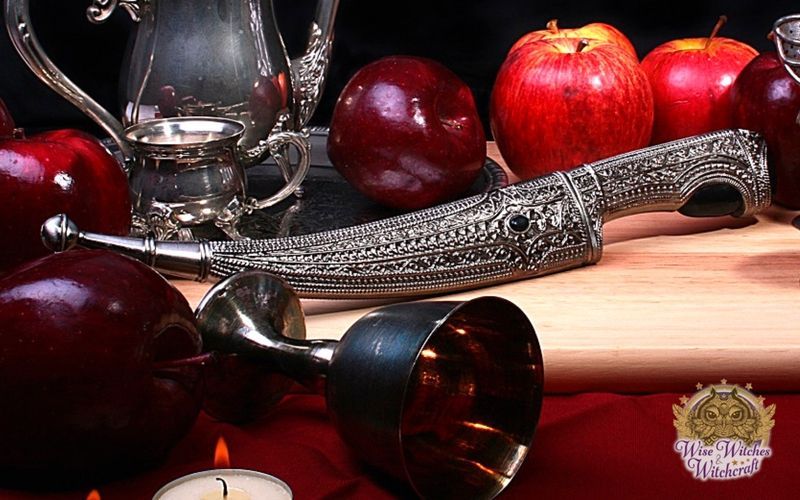 Okay, this one won't likely become part of your parents' Yule list. An Athame is the sacred dagger that Witches have used ceremonially since approximately the 1200s. The traditional blade of an Athame has two edges, one of which represents the good our magick can do, and one the harm it can do. This is a very powerful representation, and one that gives us a good reason to stop and think about our motives before releasing any magickal energy.
Alternatively, or consecutively, the Athame can represent the God aspect. Just as the cauldron and cup represent the feminine powers of the universe, the dagger, sword, and wand of the Witch give equal time to the masculine powers.
In spells and rituals, Witches may outline the sacred circle and direct energy into that outline using the Athame. You can visualize a brilliant white light shooting out from the point of the dagger so that it draws a circle of power. Another use for the Athame is to point the way for magick to follow (as when you release a spell). Also, a High Priest or Priestess may use the Athame to cut a way into or out of a sacred space for a member who arrives late or must leave unexpectedly.
Happy Home Alternative to Athames
Since many parents will be a little antsy about their son or daughter having one of these, especially a sharp one, There are several alternatives. First would be a decorative Athame made from un-sharpened stone. That has a dagger-like shape. Second would be to use your finger, or even a butter knife. A third good option is a simple wooden wand (a tree twig) that you've decorated in a special manner. This option comes from nature and you can choose both the wood and the decorations according to specific Magickal needs and goals. (see also: Wand)
A Witch's Broom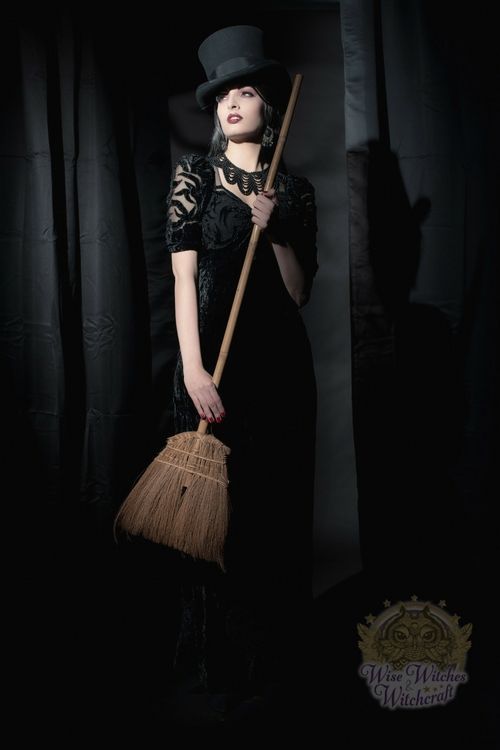 The original brooms (or besoms) were made from the broom plant, a very stalky bit of greenery that yields numerous branches, ideal for bundling on the end of a stick.
By the time the Romans came into power, brooms were already connected with magickal arts, and they were used in various ways in numerous Pagan traditions. People jumped over a broom for luck or as part of a wedding, for example.
Since most people have a broom in the pantry, this is still a particularly accessible tool. Use for sweeping the circle rather than using an Asperger. On New Year's or your birthday, sweep out the old energies, and then sweep in the new!
Vacuum Cleaner Cleansing
It is s perfectly okay to use a vacuum cleaner instead of a broom. Think of it sucking up any unwanted energy with the dust (and then tossing it out afterward).
Sprinkle some rug freshener out (to lift the energy) then chant or sing while sweeping, bringing joy to the room. On top of the positive magickal affect, you'll be getting a chore done and making your folks very happy!
Magical Candles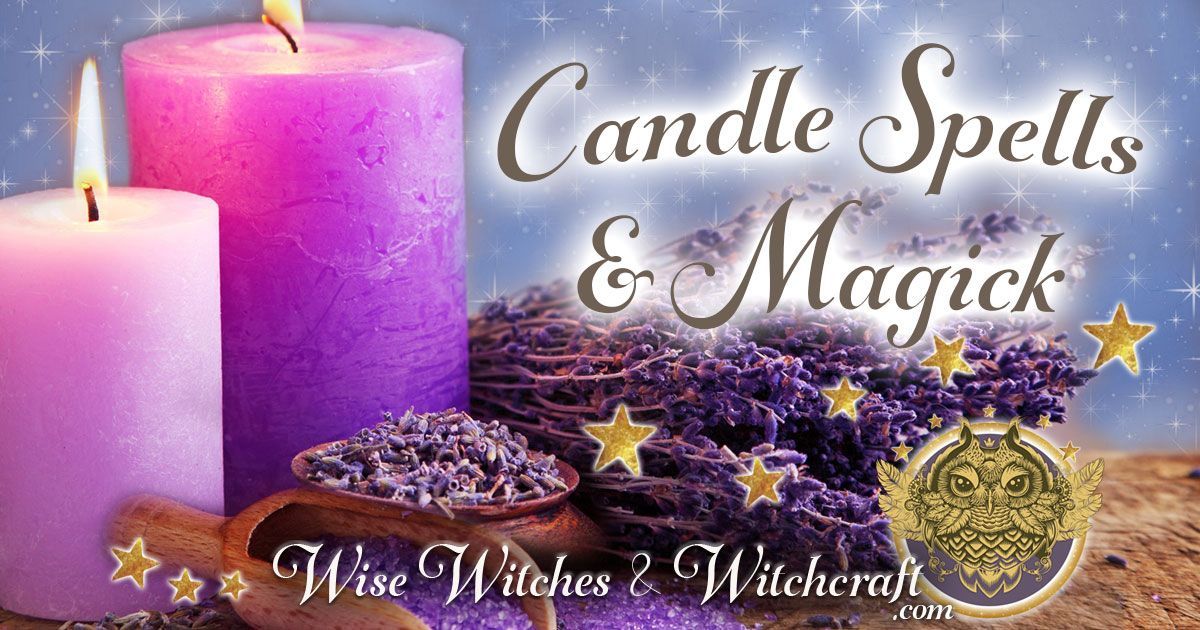 In many cultures, the light of a candle represents a person's soul, the presence of Spirit, and enlightenment. This is certainly still true in Candle magick. Witches often place candles on their altars to honor a God or Goddess, but the usefulness of this household item doesn't stop there.
Candles are one of the simplest and cheapest components of spellcraft. Pick a candle whose color represents your goal (like green for money). Carve an emblem in it (like a dollar sign) and dab it with an aromatic oil (like mint, which encourages prosperity) and you're all set to go! Ask a parent's permission before using candles and try to find self-enclosed candles for safety.
In the ritual setting candles are often set at the Four Quarters aiding with Sacred Space. Specifically, a red or orange one goes in the South for Fire, a blue or purple one in the West for Water, a green or brown one in the North for Earth, and a yellow or white one in the East for Air. These are lit during opening invocations as the Witch walks the circle, welcoming those powers.
Removing Candle Wax
One of the major problems Witches often have is the fact that candle drippings end up on robes, altar cloths and sometimes rugs. This is also problematic to your parents. If this happens, you can still redeem things.
Use an ice cube to freeze off as much of the wax as possible. Next, put several layers of newspaper on top of the wax. Warm an iron to the low setting. Iron the paper, removing the bottom layer as it absorbs the melted wax. Continue in this manner until all the wax is out of the fabric.
If after this your parents still say no to candles – use colored light bulbs instead. In stead of lighting the candle, you are "turning on" your magic.
Cauldron
Teen Kitchen Witches out there may find themselves at the stove stirring a big old pot of soup or stew. It's ok to giggle at the stereotype. Nonetheless, such pots have been central to the Witch's Craft for a very long time. The classic cauldron symbolizes the three-fold Goddess (Maiden, Mother, and Crone) because of its three legs and the womb-like shape of the bowl.
In the context of modern magick, cauldrons of all sizes find their way into the sacred space. Some may hold incense, being fire-safe containers. Some may hold water, flowers, or other symbolic items that visually emphasize the theme of the magick. Others still might be the simmering point for the after-ritual meal!
Witch's Cauldron Alternative – Cup, Chalice, or Sacred Bowl
Another Goddess symbol, a cup (sometimes a bowl) often holds offerings for the earth or the Divine (water or milk, for example). Also, at some rituals the coven drinks from one cup filled with a specially chosen beverage to show their unity of mind and spirit. Look through your kitchen cupboards and see what glasses or bowls you have in various colors, then choose one according to the theme of your spell or ritual.
Crystals, Metals, and Minerals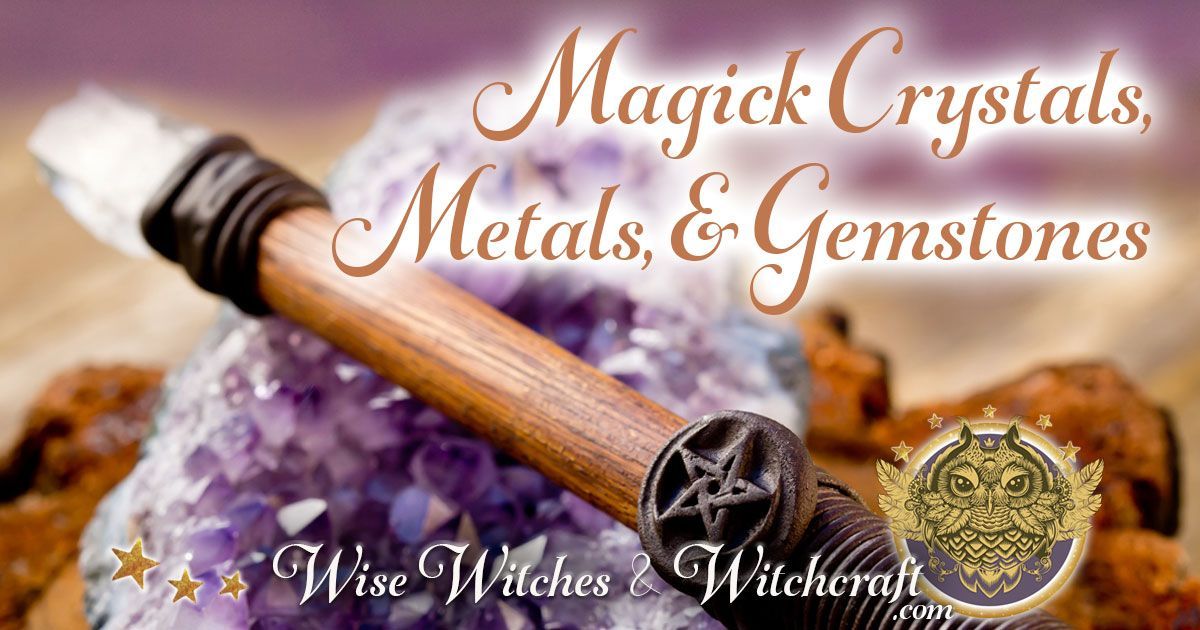 There is little, if anything, on this planet that hasn't been used in the Craft. Crystals, metals, minerals, shells… all of these items and many more appear in instruction books for spells, rituals, charms, and amulets around the world. Each stone has specific elemental correspondences and magickal characteristics (often based on the color of the stone or its shape). For example, red stones (being the same color as our blood) might be used as an energy talismans.
There's a wide variety of ways to utilize stones in your magick. You can use them to:
Create pendulums,
Carry as portable amulets,
Add them to spells and rituals as components,
Visualize them during meditation,
Plant them to improve the health of your garden, or
Put them around the sacred space, similar to placing candles.
The key is to know which crystals are best for whatever purpose you have in mind.
How do you find out the best application for your sacred stones? Well, you can certainly refer to a correspondence list or a book. You can also let the stone speak to you. Each crystal is unique, and it will have certain characteristics that set it apart from every other crystal. The only way to determine those characteristics is to listen with your heart. Hold the stone in your hand, meditate quietly, and see what kinds of feelings or images arise. Take those into account when you use the crystal.
For example, say you're holding a quartz and you feel warm or get the image of a fire in your mind's eye. This implies that the stone has a strong fiery quality, making that quartz similarly energetic.
Incense
Incense was used by the ancients to cleanse temples, as offerings to Gods and Goddesses, as a meditative tool, as a cleanser, and as a symbol of prayers or wishes. With this in mind, a little incense is the perfect tool for changing the vibrations in your magickal workroom. However, please ask permission from your family before burning anything in small indoor spaces, both for safety and in case someone might be allergic.
Kitchen Witch Incense
A lot of the spices in your kitchen rack make excellent incenses too. All you need is a fire source (self-lighting charcoal in a bed of dirt or sand is a good choice) and a pinch of the desired herb. A bit of anise improves psychic ability, basil decreases stress in the house, cinnamon invokes luck, ginger gives you more energy, and nutmeg aids conscious focus, for example.
Herbs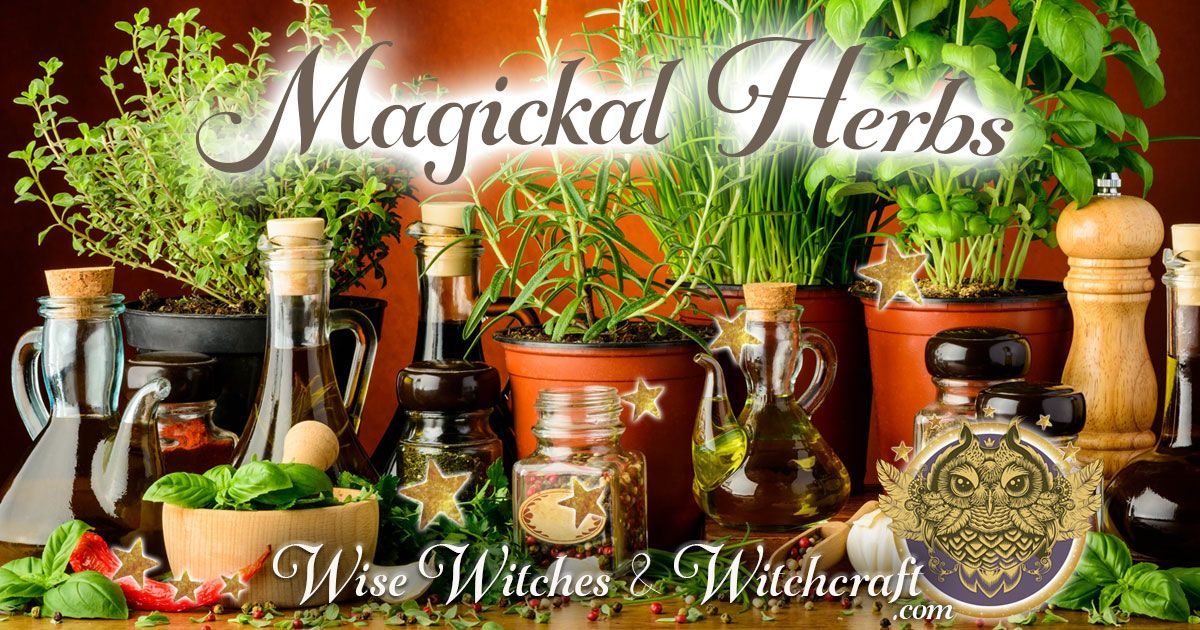 The history of Witchcraft is closely tied to the folklore and superstitions surrounding the plant kingdom. As one example, Hecate, the Greek patroness of Witchcraft, had a daughter who taught Witches how to use herbal arts. There are many other examples like this, where the magick of plants seems not only accepted as fact but honored!
In prevalent beliefs, some plants aided the Witch with their energies. Others kept away unwanted spells, some appeared on altars to Gods and Goddesses, and others still were observed in order to read natural omens and signs. In other words, plants participated in nearly every magickal method and mode. Like healing crystals, plant was assigned specific characteristics that Witches counted upon in their Craft.
Modern Magical Herbalism
Here is a brief list of how you can utilize various items from the plant kingdom in your art:
Put elementally significant plants around the sacred space so the energy is vital and growing. For example, put a fern in the north, a mint or dandelion plant in the east, chrysanthemums in the south, and a daffodil in the west.
Choose the flower from a plant that represents a question you have. Tie it into a string and use it as a pendulum. For example, a rosebud might be used to determine questions of love.
Look up the meaning of various plants that appear in your dreams. Use that information to help you interpret those images more accurately.
Bundle symbolically significant plants together into a power pouch or as part of a charm.
Bury a plant part, putting that type of energy away from you.
Sew a seed that represents your goal and tend it lovingly. When it's full manifestation comes.
Place a dried flower petal or herb sprig inside your book cover,like rosemary for memory.
Brew them as part of a magical potion
Release plant matter to flowing water or winds to carry your wishes and energy out to the world.
By the way, the uniqueness among crystals works the same way for plants. If you grow anything yourself you can observe the amount of sunlight, rain, and other conditions that may affect the plants overall vibrations. Those shifts, in turn, change the way you use the plant in your magick. Using dandelion as an example, this flower bears a signature that helps with divination efforts. One grown in a very wet environment, then, might well be dried and used as part of a divinatory incense for seeing clearly in emotionally charged situations. The Water element symbolizes our feelings.
Knots
Save bits of string, yarn, or even cloth for knot magick. The simple symbolism of tying and releasing makes a knot an ideal implement for spells, charms, amulets, and talismans. You can bind your wishes or goals inside one or more knots, and when you need that energy most, open the knot, thereby releasing it. Click to learn all about spell casting with and making Magical Knots.
Mirrors
Witches commonly use mirrors for magick dealing with self-images, or as a divination tool. In the case of the latter, the magical mirror gets specially prepared with black paint to which sacred herbs (and sometimes glitter or crushed crystals) are added. You can get as fancy as you want, but the cost to make a basic version is minimal. Click to learn all about Scrying and Mirror Magic.
Music
All the hustle, bustle, noise, pressures, and responsibilities that eat up your day can often be soothed by some good music. Thoughtfully choosing background music for your spells or rituals is just as important as any other component to your efforts. Whatever song or CD you play, its words, tones, or overall energies should match your goals.
Sound Sorcery
HINT wear headphones while listening to your music. This closes out the external world and helps focus your attention on the magick. On a more mundane level, it's a thoughtful gesture that keeps you from getting in trouble for playing music too loudly at home, in the car or at school.
The Witch or Wizard's Magic Wand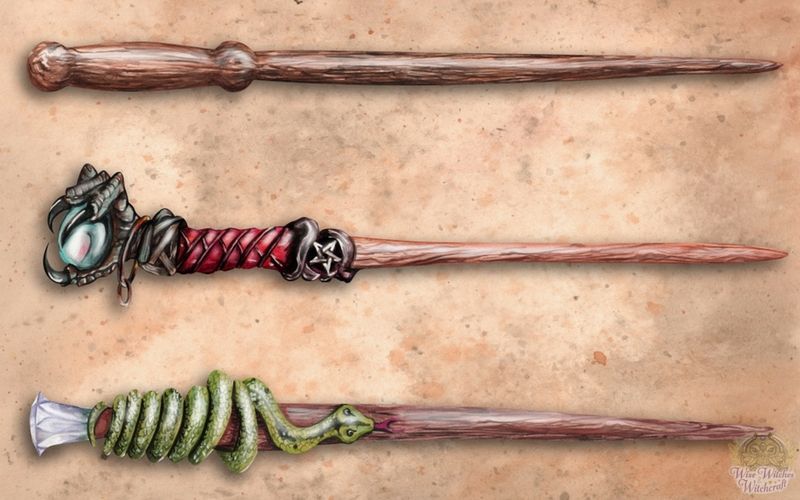 Moving beyond the sparkling energy pouring from the Fairy Godmother's wand, how did this tool become part of our practices? The Odyssey spoke of Circe (a witch) using her magic wand for transmuting people. Homer also wrote about wands saying that they "extend human power into the world of the invisible – the way the club, arrow, staff, and spear extend it into the visible world. So, by 750 BCE witchcraft and wands were already common knowledge.
Making a Witch's Wand
If you'd like to make a wand, it's not overly difficult. Find a twig outside that's about twelve inches long, preferably one with little knotholes into which you can put crystals and shells. Also make sure the thickness is such that it fits comfortably in the palm of your hand.
Soak this in warm water for several days to loosen the bark. Remove it and lay it on some newspaper. Some bark loosens with soaking. Rub the remainder of the bark off using rough sandpaper. As the bark gets thinner, go to a softer grade of sandpaper so you don't gouge the wood underneath.
Once smooth, look for spots to put small stones. Glue these in using a good wood glue or epoxy. Wrap a piece of cloth around one end (the end you'll hold in your hand) and secure it by crisscrossing ribbon from the top downward. Knot the ribbon and leave some extra at the end (You might want to hang beads or feathers from this.).
When you're done, treat the wand with lemon or orange oil to keep the wood from cracking. You should retreat it every couple of months (or any time the wood looks or feels dry).
The Magic Wand as a Talking Stick
An alternative use for your wand is that of a Talking Stick. Common in Native American gatherings, the Talking Stick gives the speaking floor to one person. When someone holds the Talking Stick, all others should remain quiet until he or she is done. Then the Talking Stick moves to another person. This is a great tool in larger groups when everyone seems to be talking all at once.
*Adapted from The Teen Book of Shadows by Patricia Telesco – all rights reserved.