Creating Money Magic Spells: A Beginner's Guide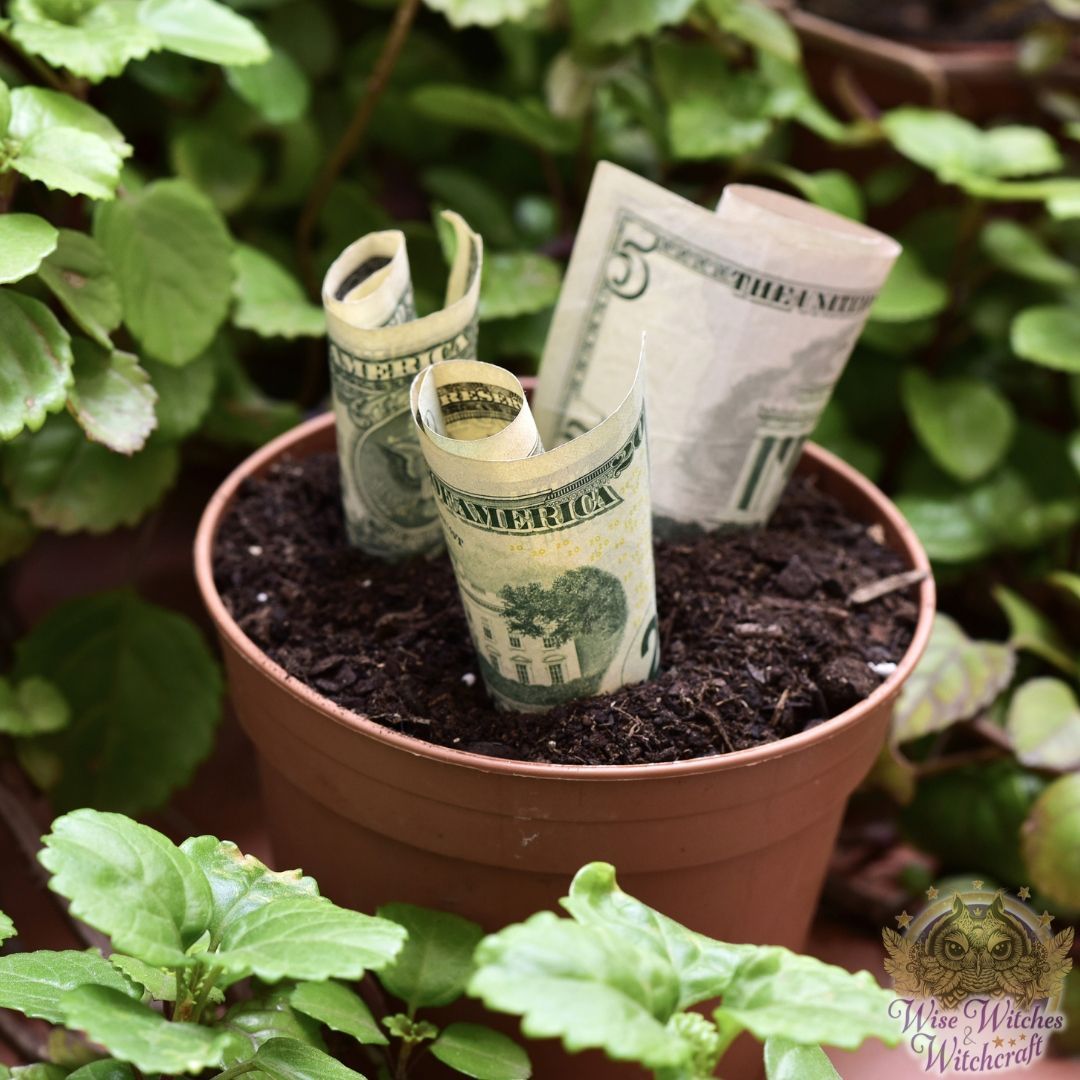 "Those who obtain riches by labor, care, and watching, know their value. Those who impart them to sustain and extend knowledge, virtue, and religion know their use."
– Charles Simmons
Wealthy Wizardry
Even 100 years ago, it was common to turn a silver coin in your pocket by the new moon to turn money your way! Did those people enacting such traditions think them magickal or a type of spellcraft? I doubt it. At that time, many superstitions had magickal overtones but were simply accepted as part of life and culture. I think we might learn something from this example.
Prosperity Patterns in Spellcraft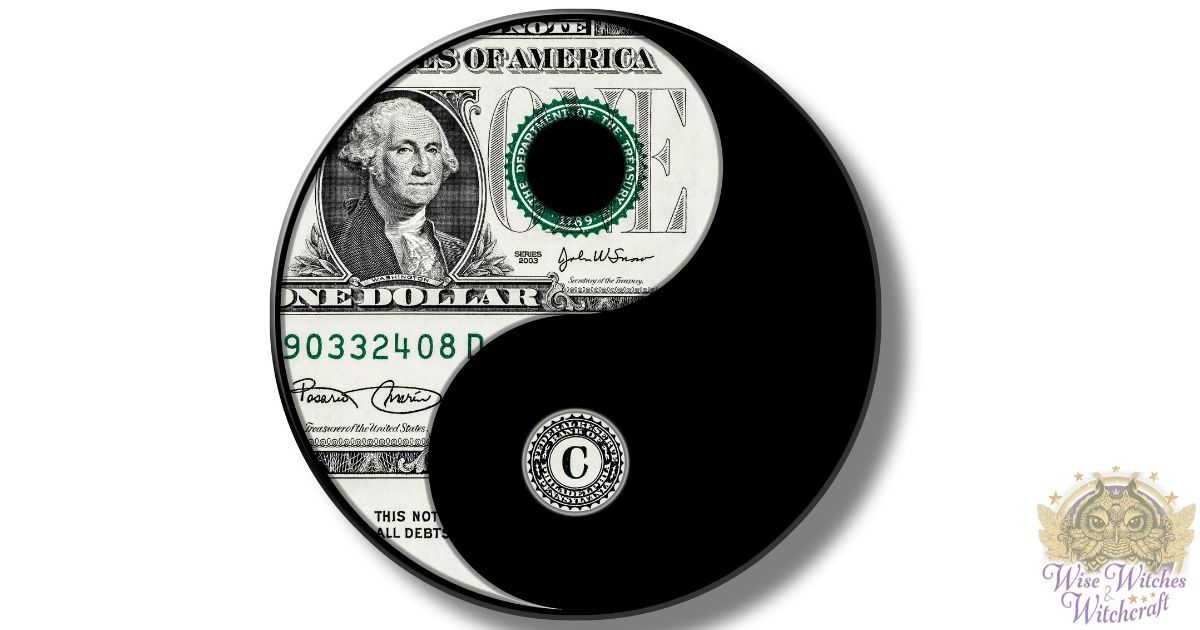 Spellcraft is an integral part of a Witch's toolkit, but it should not be seen as something supernatural. In fact, white magick is constrained by the laws and patterns in Nature. In other words, our goal is to work with the universe rather than try to swim upstream, against the natural energy flow. For one thing, it is much easier and more ethical to take this approach. For another, the results are usually far more pleasant and satisfying.
Change Through Magick
Visualize a simple square. It's a perfectly good square. The lines are tidy; the size is fine. So, will you erase the lines of that square and draw something else from scratch? You might draw another image within, over, or around that square, transforming it completely. The question for any practitioner at this point is why "fix it" when it's not broken.
A meticulously designed and executed spell shifts the energies toward your financial goals without breaking the natural law or personal ethical guidelines. With this in mind, ask yourself: What pattern do I presently have, does it need to change, and either way what execution best suits money magic?
Forms of Spellcraft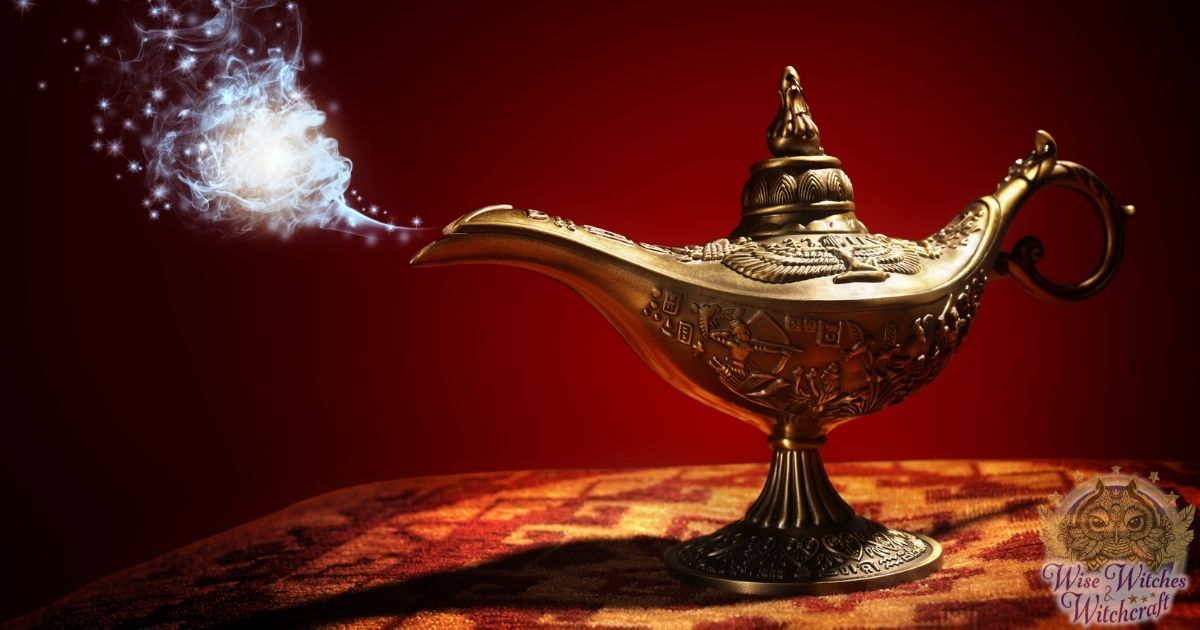 Spellcraft takes many forms. The first, such as charms, have nothing more than a verbal component called an incantation. These spells work very well combined with the Air Element because sound carries outward from you with the winds and your own breath. So, if you contrive your own verbal spells, you might want ideas on how to bring the Air Element into the process through your words. Keep in mind that the symbolic significance of "shouting into a wind" or "putting your back to the wind" −that is, resisting a type of energy has real merit here.
Written and Drawn Money Spells
One of the best historical examples of a written spell is that of "Abracadabra." The practitioner writes the word in the shape of a downward pointing triangle, eliminating one letter on each line until it "disappears" with the goal of banishing sickness. Neatly, the term Abracadabra translates into the phrase "perish like the word." In this manner, the ancient spellcrafters used the correct word and visual pattern (drawing) so that the power of disease would "shrink" into nothingness.
[wisew_rectangle_large align="left"]
Component Centered Money Spells
The third form of spellcraft uses components-herbs, flowers, candles, crystals, photographs, and so on for creating an energy pattern. Precisely what happens to those components depends on the spell's goal. For example, let's say someone wants to halt an unceasing drain on finances. The component, in this case, could be a picture representing the source of the problem. That image goes into the freezer with mindful intent. Scientifically, cold slows down molecules, so you're working with natural law for manifesting your aspiration.
The keys to success here are that the component's energies blend together harmoniously and that the manner of their preparation matches the energetic pattern of the spell. For example, avoid using a roaring fire as a component in money magick because you don't want your cash to go up in flames! Now, you could toss some prosperity herbs on low-burning coals to lift your wishes in the smoke to the universe, but burning them quickly away has the wrong symbolic value.
Elemental Money Spells
Finally, spellcraft often combines its base form with one of the four Elements. Previously, we mentioned connecting verbal spells with the Air Element. Written/drawn spells play nicely with the Earth Element, which is also ideal for money magick. So how do you put those Elements into action with your prosperity components? Like this:
Air: Tossed into a wind, blown upon, smudged (moving energy).
Earth: Buried or planted (growth).
Fire: Heated (gentle activating energy).
Water: Floated on, frozen in, asperged (go with the flow).
Solid Guidelines for Successful Money Spells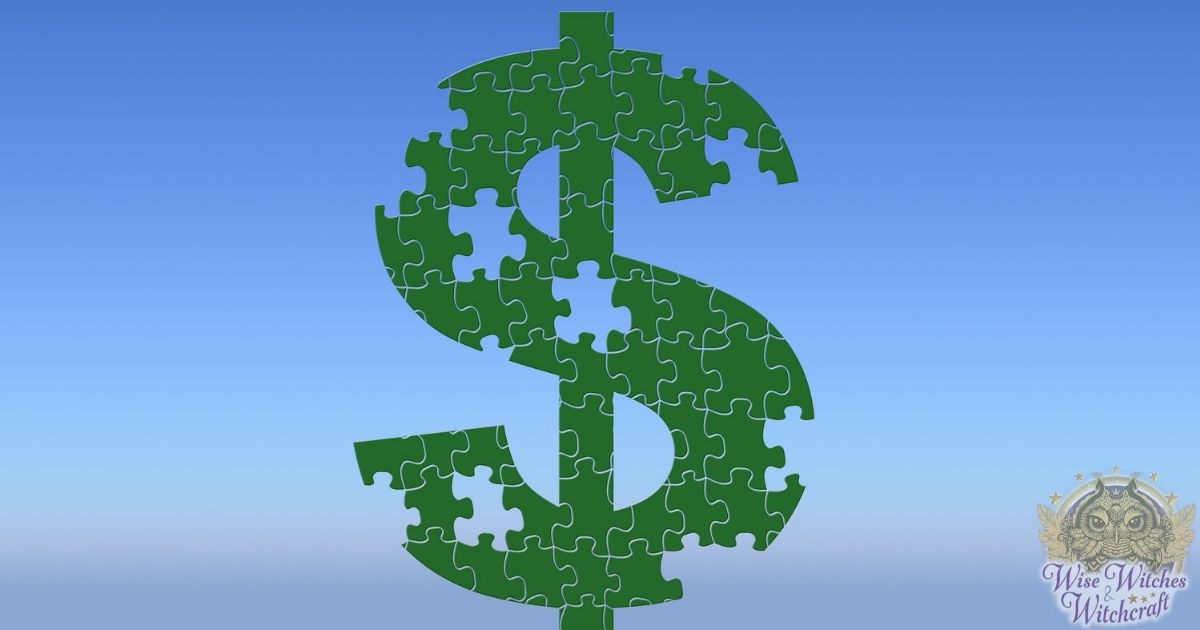 What is the focus of your spell? Can you narrow this theme down to a short word or phrase? For example, money magick has many facets: job security, financial flow, bottom line, balanced checkbook, credit lines, investments, and so forth. To what part of wealthy wizardry is your energy being explicitly directed?
What form of spellcraft works best considering this goal? If you're about to go to a bank and talk to a loan officer, for example, verbal spell combined with the Eastern air supports clarity of thought and communication. On the other hand, if you're trying to balance your checkbook, you might light a green candle with a dollar sign on it and have that burning while you work (the component form).
Do you want to blend forms for greater focus? Perform component spells which have you read incantations and/or written elements. The more senses you can bring into your spellcraft, the better the results become.

[wisew_rectangle_large align="right"]

Gather everything necessary for casting the spell and consider if you want to enact it at an astrologically beneficial time. Waxing moons, for example, support steady financial increase and full moons support sufficiency or abundance.
Cleanse components first. Try using a sprinkling of saltwater or smoke from a purgative incense such as sage. This eliminates any haphazard or unwanted energy from the equation.
Blessing the elements of your spell setting them apart for a designated function, in this case, money magic.
Cast the spell, bearing in mind that your thoughts and actions throughout the process create the energy pattern as much as the chosen components or words.
Release the spell. Don't hold onto the energy unless you mean to internalize it.
Ground yourself. Working magick can make you very light-headed, and because magick takes place between the worlds, it's good to get one foot in reality before driving!
Follow the spell up with concrete action in the mundane world. For example, don't cast a spell for a better-paying job and simply anticipate one appearing out of nowhere. Get out your resume and read the classifieds so the universe has an opportunity to put your energy to work!
Make notes of your successes so you can re-create those spells in the future when other similar needs arise.
Doesn't sound that daunting, does it? That's because spellcraft is an ancient and beloved magickal art that has strong roots among everyday people. Yes, it can get far more complicated than this, but it need not be complicated to be meaningful, powerful, and transformative.
Rules for Money Spells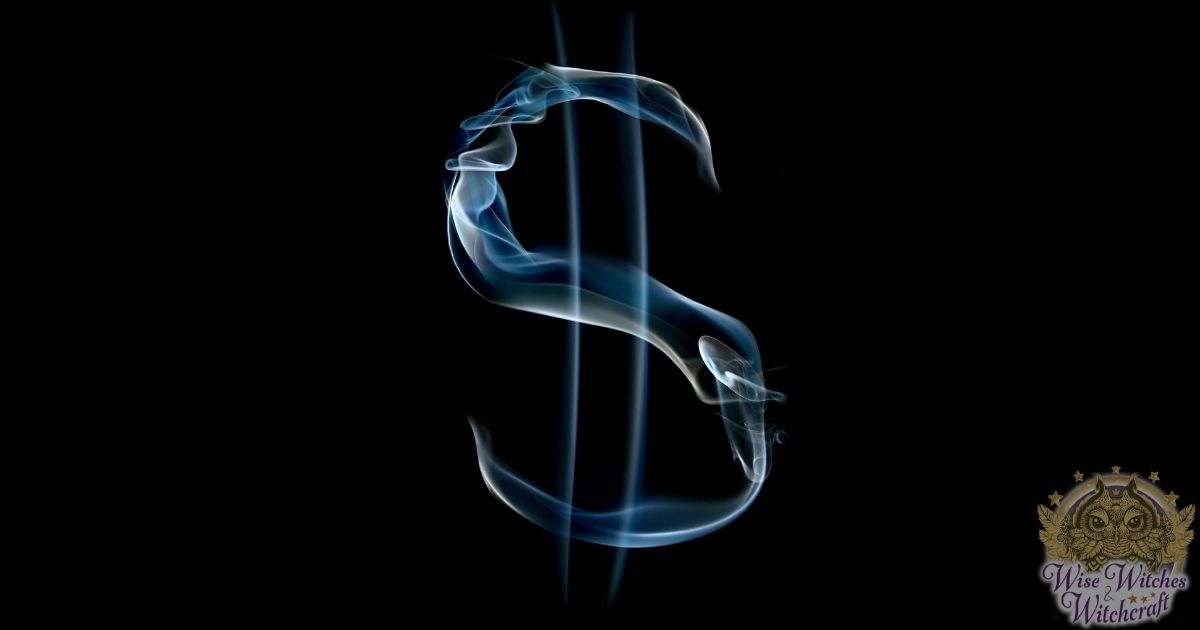 Do money spells have any hard-and-fast rules. Yes and no. Among Wiccans, the phrase "do as you will, and it harm none" comes up regularly, but not all metaphysicians follow that guideline. Try on these concepts and see if they feel right for your spiritual vision.
If you can do it yourself, without magick, do so! This kind of comes under the heading of "god/dess helps those who help themselves." Save magickal energy for those times when you're really at a loss.
If your motivations aren't what they should be, I wait. Always examine the bottom line. Need is different than greed. The desire for change is different than manipulation. The phrase "Know yourself" should always be part of a Witch's rule book.
If you are tired, out of sorts, sick, or feeling unfocused, wait. All of these mental, physical, and spiritual conditions impact spellcraft adversely.
[wisew_rectangle_large align="left"]
If you are not willing to be wholly informed, discerning, aware, and accountable for the way your spellcraft is designed and cast, don't do it. One does not excuse irresponsible spellcraft. No matter how innocently contrived, each of us is accountable for the patterns we create or destroy by our magick.
If you come across a spell that doesn't make sense, change it, or don't use it. There are literally thousands of spells in this world, but not all of them work for all people! Each of us works with magick in a slightly different way, and we must recognize the processes and components that truly harmonize with our spirit.
If you are too personally involved in a situation to remain neutral, I ask someone else for help with the magick or avoid it. We are human beings with failings, and sometimes remaining objective is difficult. When this happens, stop, and regroup.
If you feel there's resistance to your magic lurking about, put up a protective sphere before working the spell. This safeguards the created energy until you're ready to release it.
The more you enact protective, prosperous magick in your home or magickal space, the more you saturate that area with good, good, good vibrations!
Adapted from a "Little Book of Money Magic," by Patricia Telesco. All rights reserved.