Witchcraft Terms and Tools – Crystals
Technically, a crystal is any solid substance in which the atoms, molecules or ions are arranged in an orderly repeating pattern extending in all three spatial dimensions. For Neopagans, however, a crystal is a mineral capable of receiving storing, transmitting or amplifying vibrational energy, and is often used as a tool for healing, prophecy or communication.
Like candles, crystals and gemstones play a key part in most rituals in Wicca. Different crystals are associated with different elements and are believed to have different powers, magical properties and attributes. The following are just a guide as individuals differ widely in their interpretations and claims: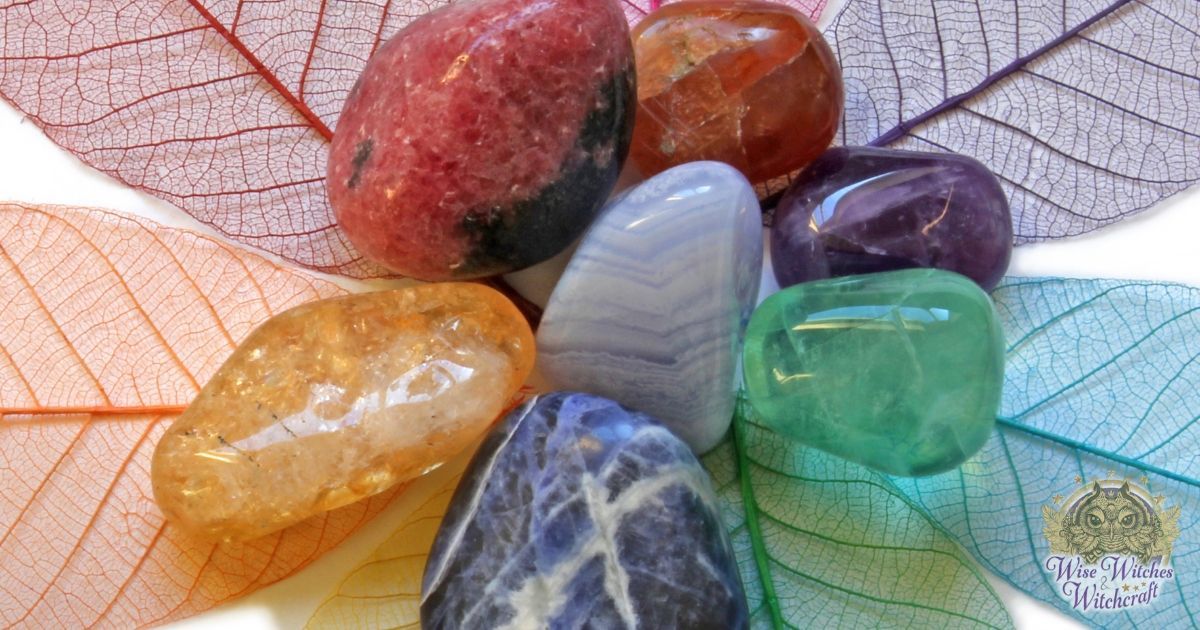 Agate (aids in restoration of energy and healing, brings happiness, wealth, health and long life, increases ability to ward off self-induced anger and inner bitterness).
Amber (protection, absorbs and changes negative energy into positive energy).
Amethyst (protection, controls all types of harmful behaviour, increases spiritual awareness, calms and soothes).
Bloodstone (stimulates flow of energy, heals blood circulation problems, promotes courage, renewal, enhances creativity, encourages unselfishness).
Carnelian (stimulates analytical capabilities and precision, relieves feelings of anger or hatred, relieves sexual tension).
Citrine (dissipates and transmutes negative energy, stimulates mental focus and endurance).
Diamond (removes voids from one's aura, inspires creativity, ingenuity, inventiveness, inspiration, faith and endurance).
Emerald (increases creative imagination, prosperity, love, fertility, sensitivity, loyalty and domestic bliss, enhances memory and brings harmony).
Garnet (brings out creative energies, aids in love, purification, cleansing and the elimination of things in disorder, good for blood related ailments and iron deficiencies).
Hematite (excellent grounding stone, protective, reflects negative energy away, assists in balancing body, mind and spirit, mental attunement).
Jade (helps in remembering and understanding dreams, prolongs life and bring riches, increases confidence and self-sufficiency).
Jasper (used for nurturing, stabilizing the aura, aid in safe astral travel; Red Jasper is for protection; Yellow Jasper clears the mind; Brown Jasper aids in concentration and may be worn for grounding and centering).
Lapis Lazuli (expands awareness, attunes to creativity, fine-tunes the feelings and instincts, helps to overcome depression, protects and enhances a state of serenity, assists in entering other realms).
Malachite (exudes maternal love and warmth, used for healing purposes, absorbs negativity, clarifies emotions, good for money and luck, good stone for gardening).
Moonstone (stimulates confidence and composure, enhances all feminine aspects of one's nature, brings calmness and awareness, trance-inducing).
Obsidian (useful in healing, provides clarity, excellent grounding and protective stone, each type of obsidian also has its own specific qualities).

Onyx (powerful grounding stone, aids in concentration, absorbs negativity, banishes grief, enhances self-control, stimulates wise decision-making, encourages happiness and good fortune).
Opal (balance, aids creativity and inspiration, imagination and mystical qualities).
Pearl (soothing, helps overcome obstacles, absorbs negative energy, induces faith, charity, innocence and focus, enhances personal integrity).
Peridot (emits a warm and friendly energy, regulates cycles, excellent for healing and protection).
Quartz, Clear (used for logic, for a clear mind and as a scrying crystal, can create altered states of consciousness, unlocks abilities of the mind, amplifies healing energy, heals inner negativity).
Quartz, Rose (emits a gentle and calming energy, brings harmony, promotes feelings of love and happiness, releases the imagination, good for children).
Quartz, Blue (increases concentration, rain stone).
Quartz, Smoke (protective stone, astral stone, good for variable people or someone working with multiple personality disorder, dissolves negative emotions, excellent grounding stone, promotes joy of life).
Ruby (promotes creativity and the ability to expand beyond oneself, promotes nurturing, spiritual wisdom, health, knowledge and wealth, excellent shielding and protective stone).
Sapphire (eliminates frustration and allows for the fulfillment of dreams and desires, removes unwanted thoughts, counteracts negative witchcraft and attracts good spirits).

Tiger's Eye (aids clarity of mind, enhances psychic ability; Blue Tiger's eye is good for airline fears and boats; Brown Tiger's Eye reflects danger away; Red Tiger's Eye enables physical protection and physical prowess).
Topaz (calms emotions, protects against external stressors, restores physical energy and a quiet emotional nature).
Turquoise (protection, verbal prowess, promotes strength, vitality and calmness, good stone to tune into for beginning crystal magic).