Witches' Brews, Magic Potions, Elixirs and Tinctures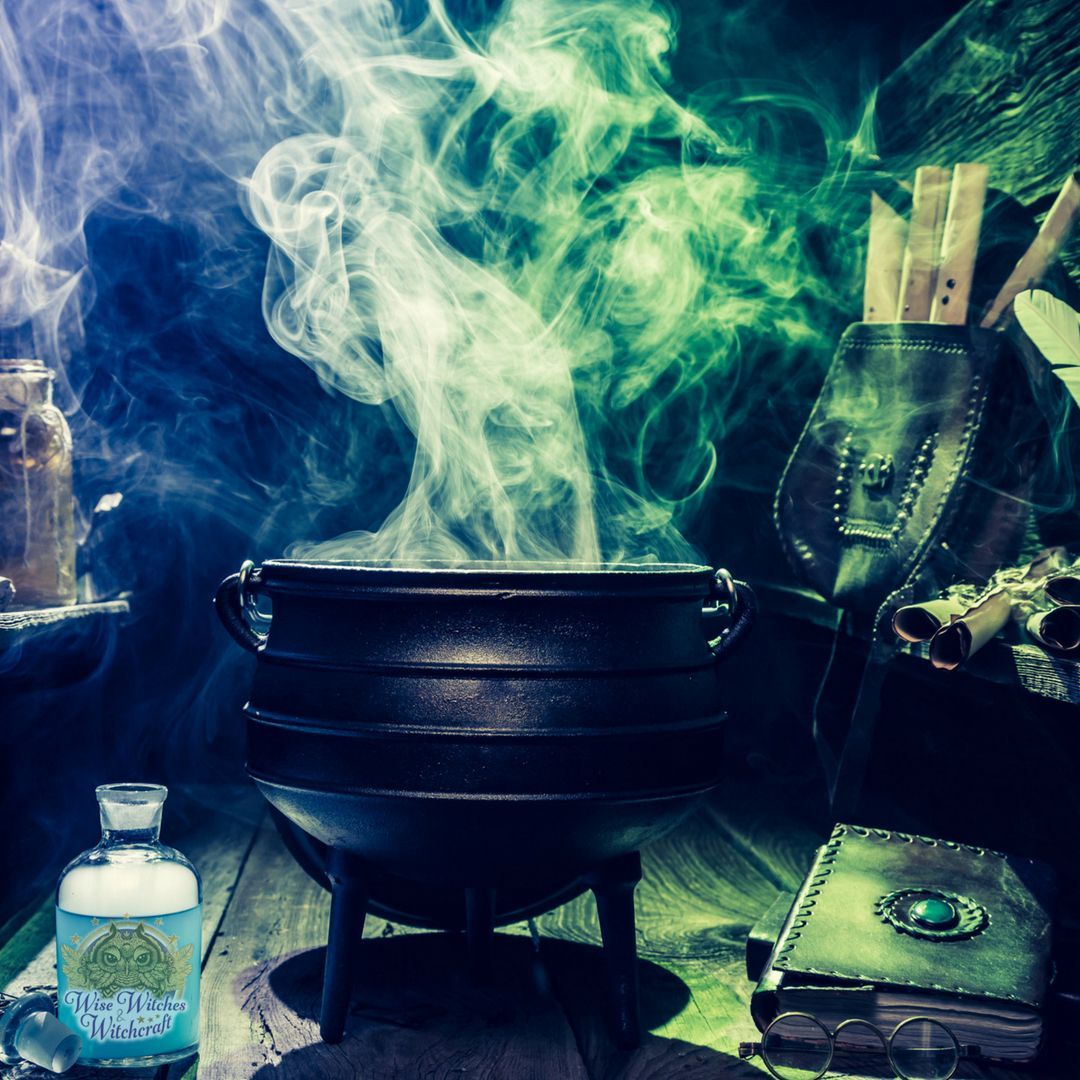 "There's no mistaking what kind of potion I need. Caffeine – for alertness and rejuvenation." ― Amy Alward
There are all sorts of techniques up the sleeve of a seasoned Witch. But just like amulets, talismans and charms are three distinctly different animals so too is the world of making potions. We have a variety of labels for processes that result in a magical, quaffable drink each of which has slightly varied instructions. Even so, the words potion and brew are often used interchangeably. So let's look at a bit of history and definitions to clarify things.
History of Magic Potions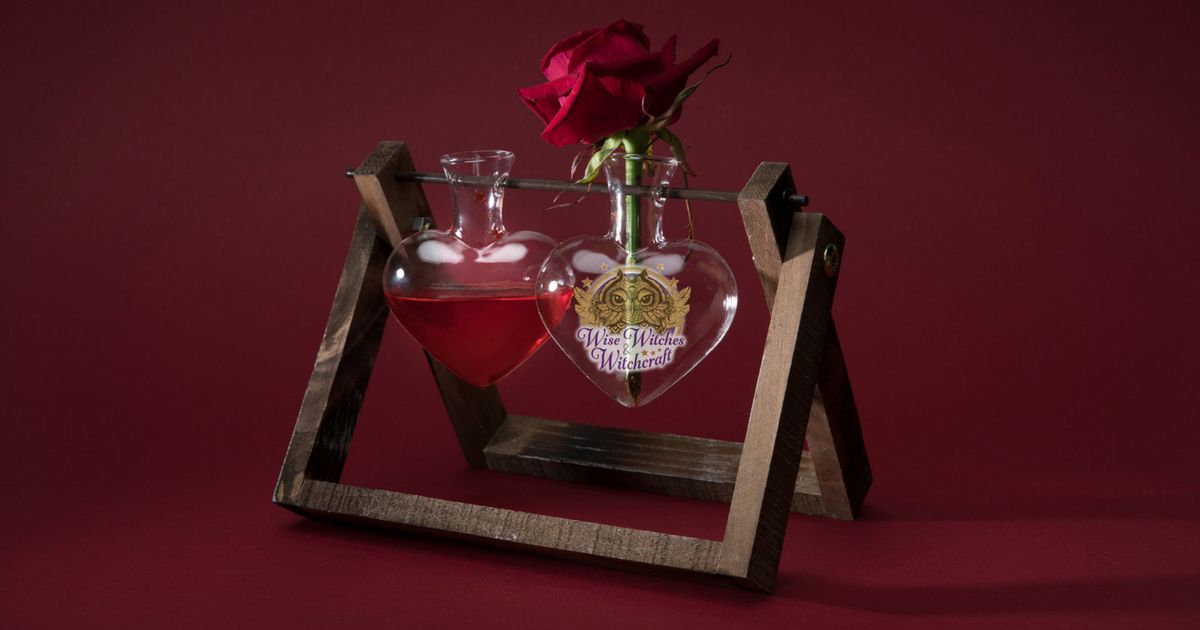 The term potion comes from a Latin word that means to drink. The ancients made all manner of potions that don't sound the least bit yummy. They included ingredients like animal parts, bugs, blood, etc. This unsavory approach came from the notion that consuming a part from a specific creature internalized the natural abilities or characteristics of that creature. An example might be eating a lion's heart for bravery and boldness.
During Medieval times by far the most sought-after potions were those for love and passion. These had some common ingredients including:
Henbane: This appeared in a lot of Medieval medicines because of its narcotic affects. When a couple drank this potion, it bound them in lasting love. Trustfully that concoction was made properly or the "lasting" part might come quite quickly with death. It is a toxic herb when prepared incorrectly.
Mandrake: A widely popular aphrodisiac. The root looks a bit like a human with parts that are both male and female. One had to take great care in harvesting because the plant's shriek could cause insanity. Besides appearing in love potions, bits of Mandrake root were recommended as charms for fertility.
Honey: Now we have an ingredient that's not only safe and healthy, but still used in modern love magic (among other needs). A good example of honey's use comes to us from Celtic tradition where couples would be given mead, a honey wine, to enjoy over the first month of their marriage. This was said to bring both joy and fertility (and it is how we come by the modern term "honeymoon."
Roses: The Queen of flowers, roses attract love, encourage romance and seduce. Rose water is surprisingly fruity, so it made other medieval preparations a bit more palatable. With the case of a rose potion, one could drink it or wear it like perfume.
Verbena: a common herb in folk magic, particularly to help with sleep. In love potions it encouraged enchantment. Some clever witches also found a way to use it to render a man impotent for nearly a week.
Throughout the history of witchcraft, some witches chose to take up "schools" of magic, potions being among them (or by extension, herbalism).
A Witch's Brew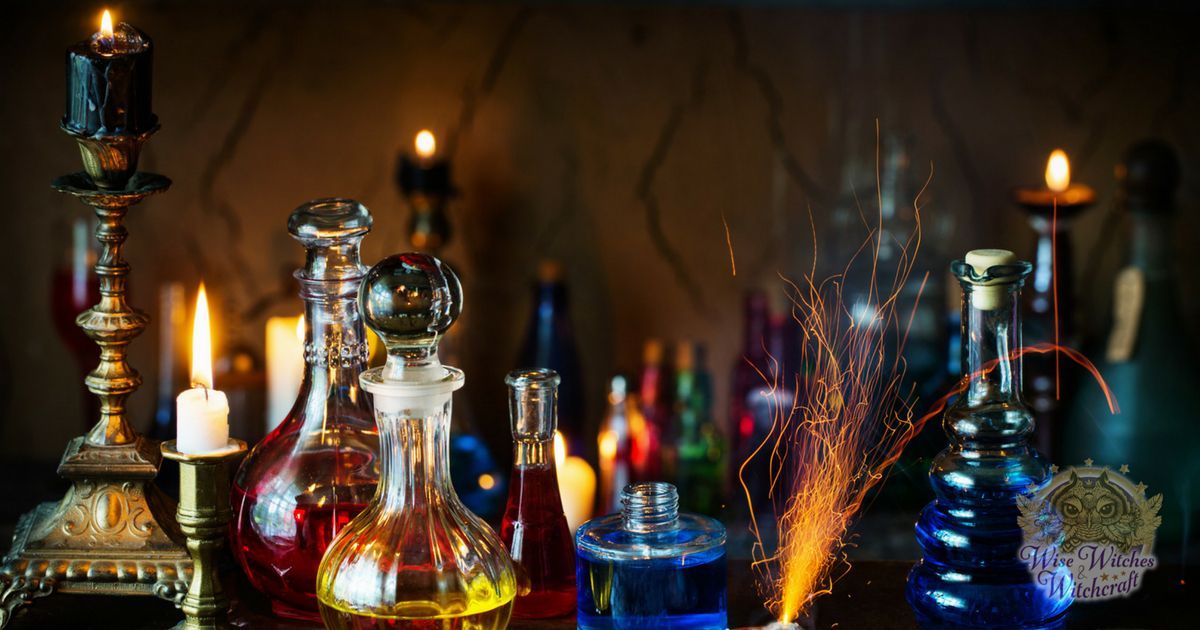 The dictionary defines "brew" as a beverage or drink with examples being beer, tea or coffee. Since potions are brewed, it's not surprising that people use the two terms meaning the same thing. However, brews can also be edibles like soup or stew.
Preparing a magical edible brew is really no different from any other magical technique (just ask a Kitchen Witch). Keep your purpose in mind while you cook. Speak incantations over the mix. Stir it a symbolic number of times and then eat expectantly.
Magical Health Brew
1 carrot (lucky and nutritious)
1 onion (protection and health)
1 potato (soothing and aiding digestion)
1 cup cooked beef (strength and energy)
water or broth (cleansing and healing)
Grind up all ingredients using a food processor or grinder. Place them in a stew pot. Add a little water or broth so it barely covers the mix. Simmer on medium so that the vegetables become tender. You can add other healthy magical herbs to this for more flavor like salt, pepper, parsley and garlic. As you tend your brew recite a simple incantation like:
Health within, the magic begins
Vegetables and meat, energy so sweet
By my will and my aim, wellness I claim.
This is just about enough for one hardy bowl.
Draught
Draught designates a type of beverage that ages in a barrel and serves out from that barrel or tank. This term has also been used as a synonym for potion, but might more appropriately apply to wine, whisky, beer, sassafras and balsamic vinegar.
Wine has long connections with religion as part of ritual and ceremonies. Greeks used wine for exploring the Dionysian Mysteries. Romans looked to Bacchus for wine and song. In fact, the term "spirit" was applied to wine because of the Roman belief that Bacchus resided in every glass consumed. Thus inebriation was caused by indwelling spirits.
Sassafras tea was trusted to keep malevolent spirits away all while making for better digestion. The herb attracts money, stimulates, cleanses and appears in various love potions. As for beer, a key component is hops. Hops have magical qualities that encourage visionary dreams and allay nightmares.
Crystal and Gem Elixirs in Magic Potions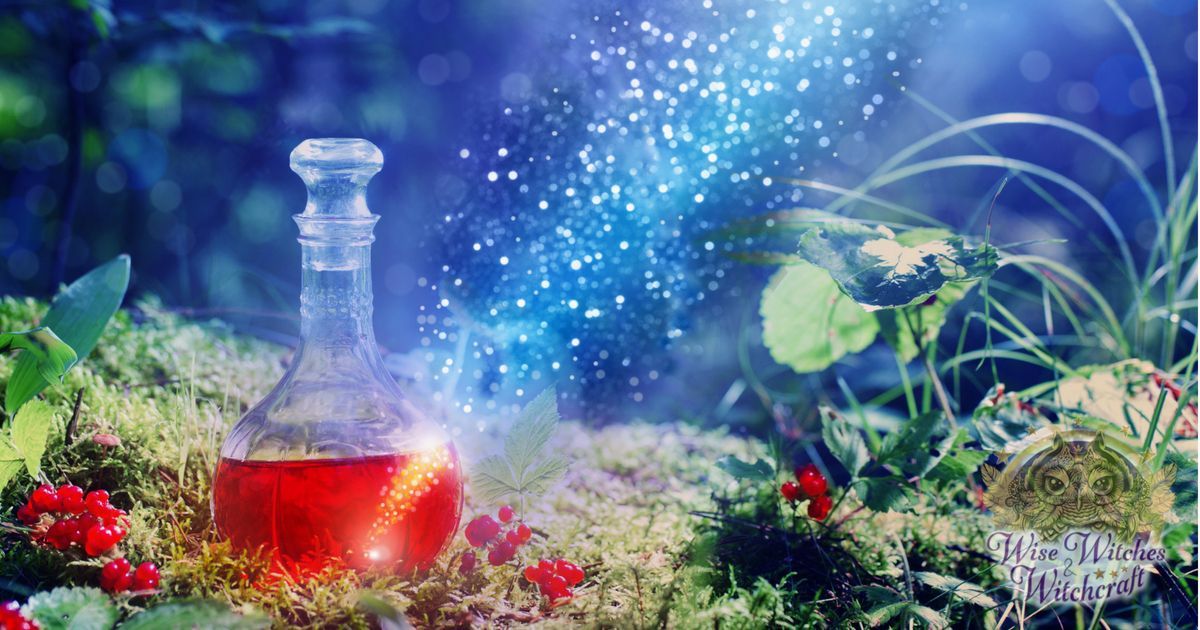 The word elixir can pertain to magical love potions but historically it was far more than that. Alchemical writing talks about the quest for an elixir that turned any metal into gold. Then there's the more common modern connotation of an herbal mixture meant for health and longevity. A basic elixir consists of plant extracts mixed with water or alcohol. Honey or fruit juice may be added for better flavor.
A neat twist from Witches and healers who work with sacred stones is a crystal elixir. In this case you drop a crystal in water and leave it in the light of the sun or moon for charging (depending on your goal). Some people like to use rain water or spring water for this purpose. Here's a brief reference list:
Agate: as an aphrodisiac
Amethyst: making peace with self or others
Citrine: personal power and manifestation
Fluorite: supporting astral travel and walking between worlds
Hematite: grounding
Jade: serenity and gentle love
Lapis: mental or emotional clarity
Obsidian: overcoming bad habits
Quartz: energy
Some hints: Use sunlight for physical and material goals, moonlight for emotional or psychic goals and make sure your stones are well washed.
Making Magic Infusions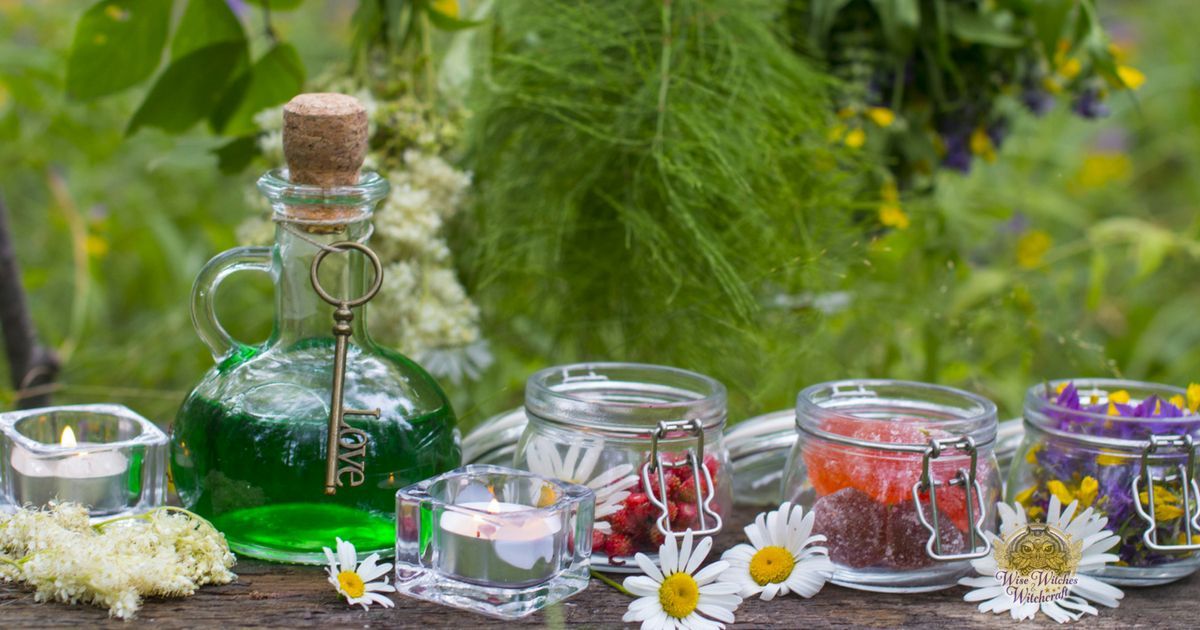 Making an infusion begins with a base components (or several components) to which you add a liquid and let everything steep together to marry. While we generally think of tea in terms of infusions, this potion can begin in wine, oil or juice (for example). How might you use them?
Add infused oils to your recipe. The heat of cooking releases the energy.
Marinate meats or fish with infused wines or juice for greater flavor and magical effects.
Pour infused water into your bath or clothes washer.
It's really not difficult to make magical infusions. One of the key things is using the right kind of pan for mixing them up. Most people recommend stainless steel for a neutral impact on the finished taste. Having said that there's nothing wrong with using cast iron for anything that benefits from the Earth Element or copper for the Fire Element.
Philters & Magic Potion Recipes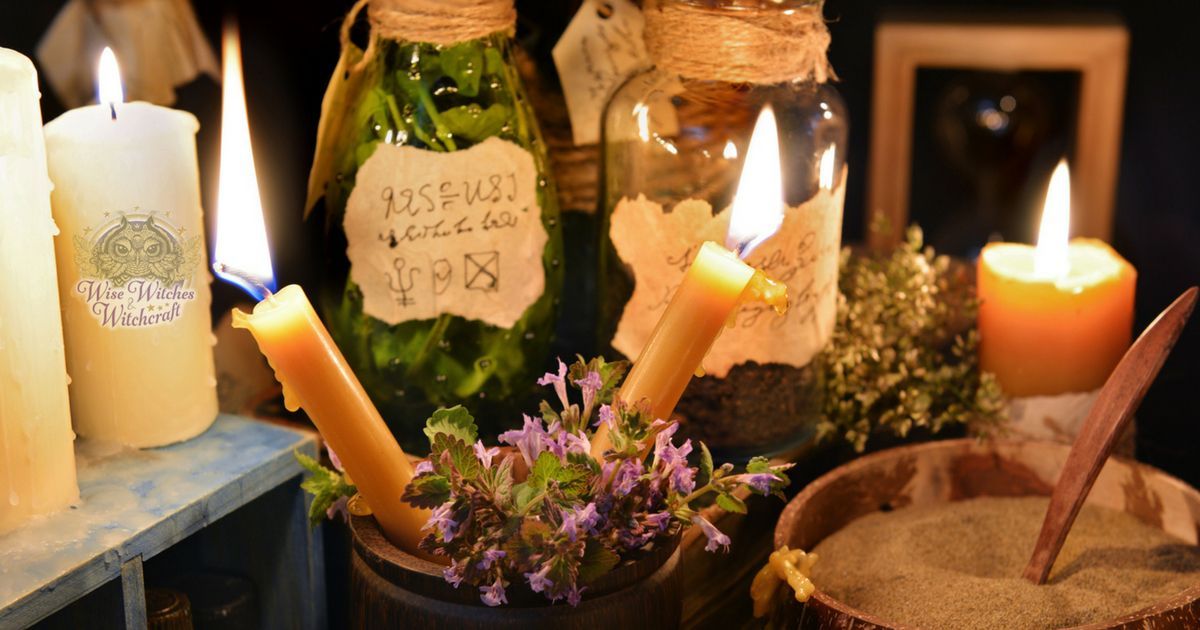 The word philter comes from a Latin term that means the equivalent of beloved. Thus these are basically love potions. For a while they were widely popular but around the 1800s things like charms and poppets drew greater public acclaim. Like any potion, the philter included wine or water mixed with herbs and other components with occult associations for affection and passion. This term has become fairly antiquated in modern practices.
The use of potions has a long magical history around the world. In ancient China, for example, elixirs were blended using alchemical processes and used as curatives. Japanese hangover cures call for "golden milk" with the main ingredient being turmeric. Among the Celts a blend of violet root and parsley was quaffed for prophetic insights. They also used milk, honey and fennel seed as a beauty potion applied internally and externally.
There is probably very little on this planet that hasn't been used in a potion for whatever reason. That certainly made some concoctions very dangerous. The trained herbalist, alchemist, healer and hedge witch however could produce safer blends. The components were chosen for their magical characteristics. Here are some examples:
Banana: fertility
Cinnamon: prosperity and success
Ginger: love and power
Grape: mental keenness
Honey: beauty
Lavender: peace and tranquility
Lemon: longevity and purification
Orange: health
Rosemary: improved memory
Thyme: psychism
It's funny to realize that many folk still think of potions are something that tastes nasty with weird ingredients. That's certainly not true in modern practices. Potions can be both flavorful and powerful. You can serve them hot, cold or frozen too!
Magickal Tonics
Tonics are similar to elixirs in that they're meant for overall well-being (literally "tuning up" your body). In putting together tonics one seeks out restoratives and/or refreshing or energizing ingredients.
An excellent example of a tonic would be a blend of honey, fresh lemon, fresh ground ginger, and orange. Slice the orange and lemon and squeeze the juices into a non-reactive pan. Put the rinds in next. Pour in enough honey to cover the fruit and add the ginger. Warm this over a low flame until the mix becomes aromatic. Store in an airtight container and take a spoonful every morning when you have a cold. By the way this makes a great chicken glaze too!
Working on magical brews and potions can be tremendously fun. Get together with some friends and see what interesting concoctions you come up with for your next ritual feast.
—Happy brewing!—