Magical Love and Passion Potions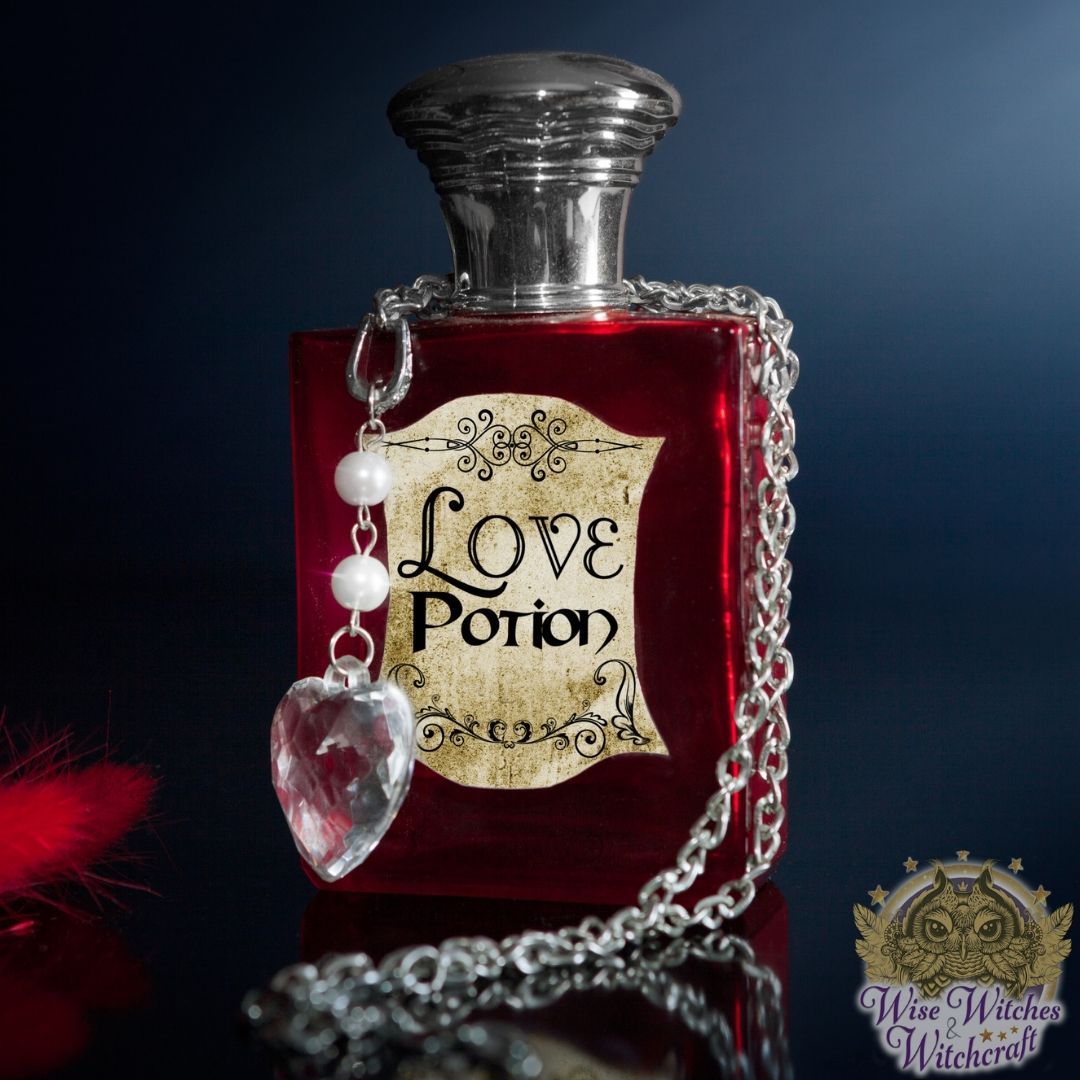 "Believe in your heart that you're meant to live a life full of passion, purpose, magic and miracles."
– Roy T. Bennett, The Light in the Heart
In reading Shakespearean plays, one might wonder who on earth would drink a Witch's potion? All those bat wings and slimy frogs – shudder! We now realize that our Witchy ancestors use those quaint words as a kind of code so they could keep their magickal secrets… well… secret!
Magic Potions: A Coded Language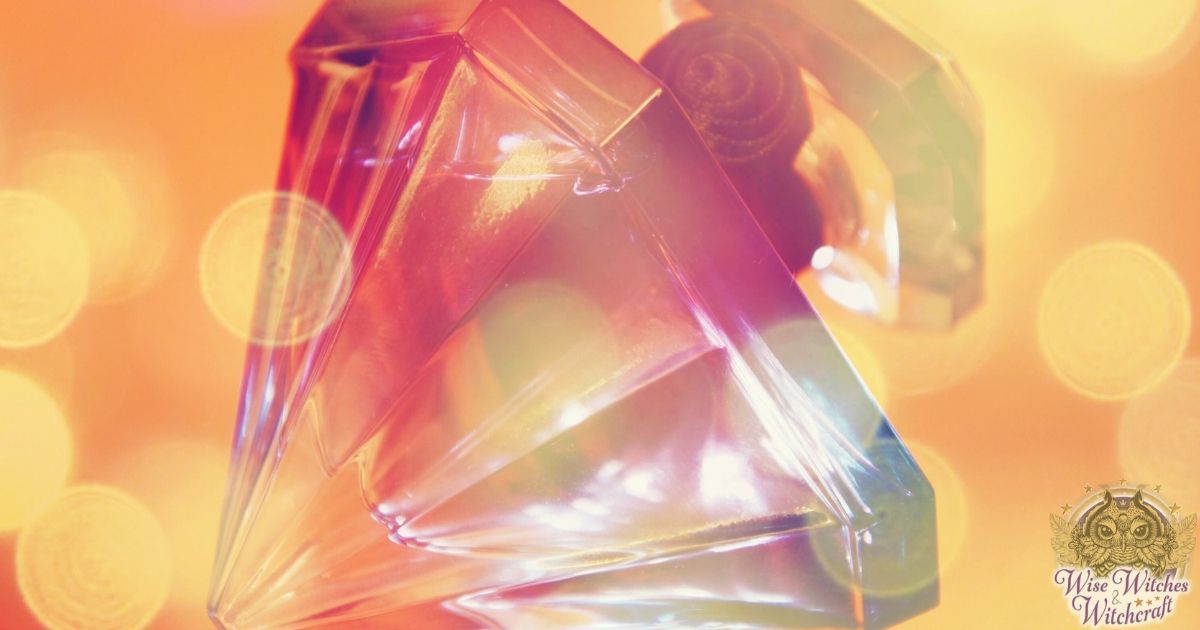 Witchcraft and Paganism are far more open now, and boy, have many of us developed a complex pallet. There is no reason that you can't make a delicious magical brew that has all the intentional power of any other type of spell. And perhaps of all the potions in the world, love reigns supreme.
Simple Hints:
Pick ingredients that match your goal
Pick magical ingredients that taste good together
Prepare them using common symbolic processes (working by moon sign, stirring clockwise)
Add charms or incantations merrily into the mix
Serve with a heaping bit of hope in your heart.
Compassionate Love Spell: Apple-Berry Delight
Magical Associations: Brings energetic romance, dedication, compassion, and wisdom.
Timing: Waxing to full moon unless you're bringing more of the conscious mind into the equation, then do some of the blending in sunlight.
Background: Apples were once called love apples, citrus provides freshness and clarity and berries abundant joy. Cinnamon gives your feelings a little "kick."
6 cups water
2 small red apples, unpeeled and sliced
1 orange, peeled and separated
1 one-inch slice lemon peel
1 cup raspberries
1/8 teaspoon ginger
1 cinnamon stick
honey to taste
Put the water in a large pot with the fruit and herbs. Simmer over a low flame until the water turns dark red from the apple peels and the aroma is heady. Strain through cheesecloth, then sweeten with honey. Drink from a single cup to celebrate your unity.
Light-Hearted Love Spell: Kiwi-Strawberry Slushie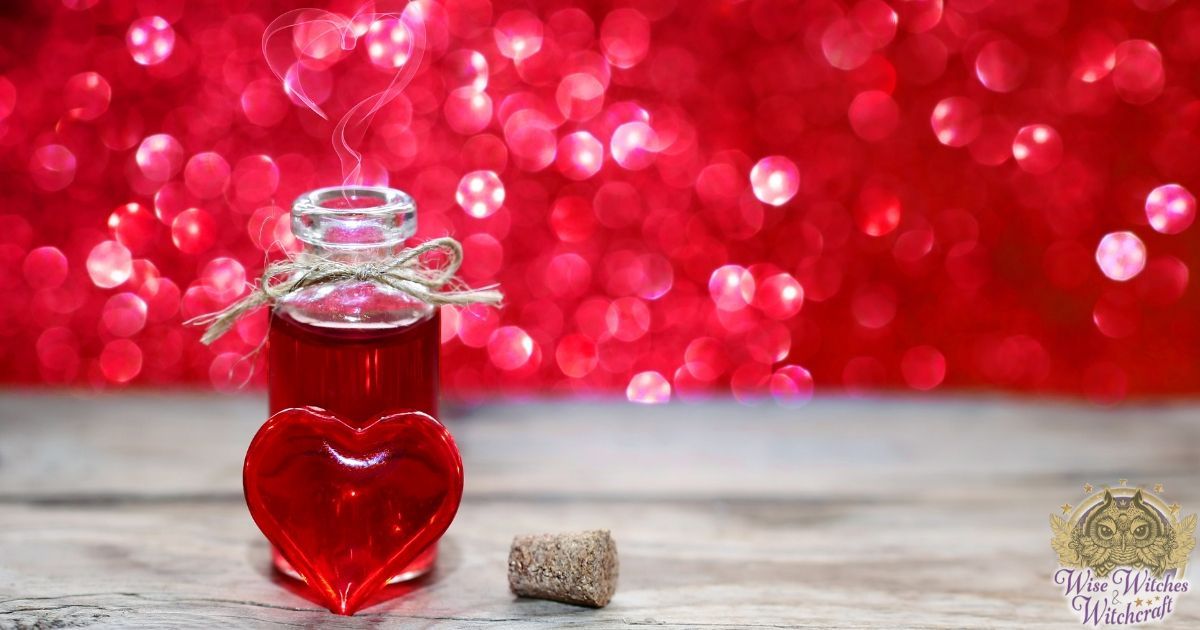 Magical Associations: Stimulates playful, light-hearted love and romance. While best suited to warm weather, this drink can also be enjoyed in front of a cozy fire too.
Timing: Moon in Aries brings both fire and the courage for approaching that special someone.
Background: Kiwi represents good things to come and strawberries foster honest intention.
2 kiwi fruits, peeled and diced
12 frozen whole strawberries
2 cups orange juice
In a blender or food processor on the "frappe" setting. Blend until smooth and frothy. Serves 2. Add a few rose petals on top for visual appeal (they are edible).
Anxiety Relief Love Spell: Violet-Chamomile Cooler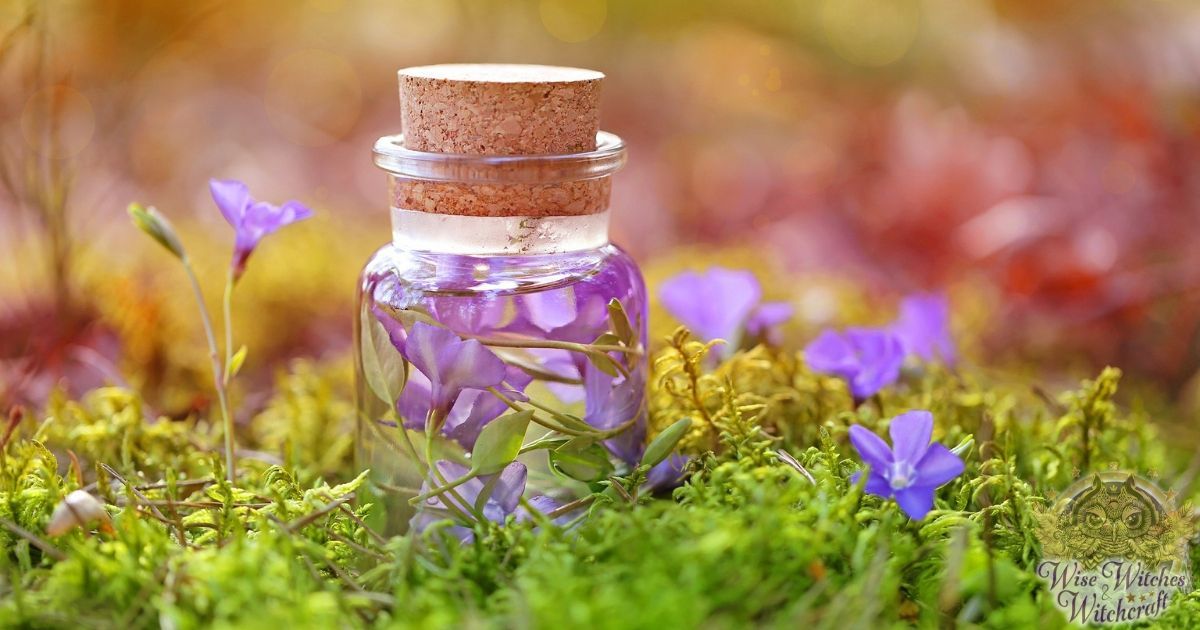 Magical Associations: Decreases nervousness or anxiousness. Violets are ruled by Venus and represent enchantment.
Timing: Moon in Taurus for strengthening love in your home.
Background: Violet brings creativity and an air of mystery into your relationship.
1-quart spring water
1 orange, sliced, rind on
2 whole cloves
2 chamomile tea bags
1/2 cup violet petals, rinsed
Place all ingredients, except the violets, in a non-aluminum pan and heat. When the liquid is tepid (not yet boiling) add the violets and simmer until they become transparent. Strain and serve hot or cold with sweetener, as desired. A cold beverage accentuates keeping a "cool head" while dating, and a warm serving emphasizes a "warm heart."
Beauty Love Spell: Sweet Milk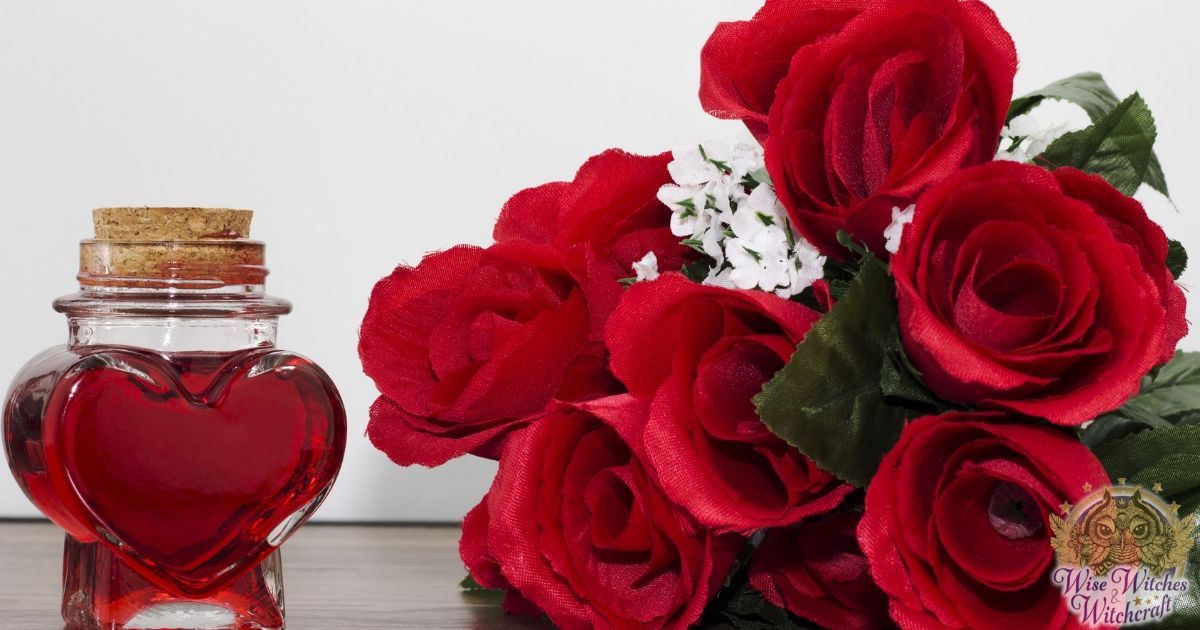 Magical Associations: Enhances physical beauty when consumed or dabbed on the skin and hair.
Timing: To attract a man, do this on Sunday, Tuesday, or Thursday; to attract a woman, on Monday or Friday.
Background: Cinnamon, sacred to Venus, is an aphrodisiac. Milk represents nurturing love.
1-quart milk
1 cup honey
1 small cinnamon stick
1/2 teaspoon fennel
Warm all ingredients in a small saucepan until the honey is fully dissolved. Whip until frothy, then pour into cups. If desired, garnish with a bit of sweet cream and cinnamon sticks.
Harmony Love Spell: Banana-Mango Medley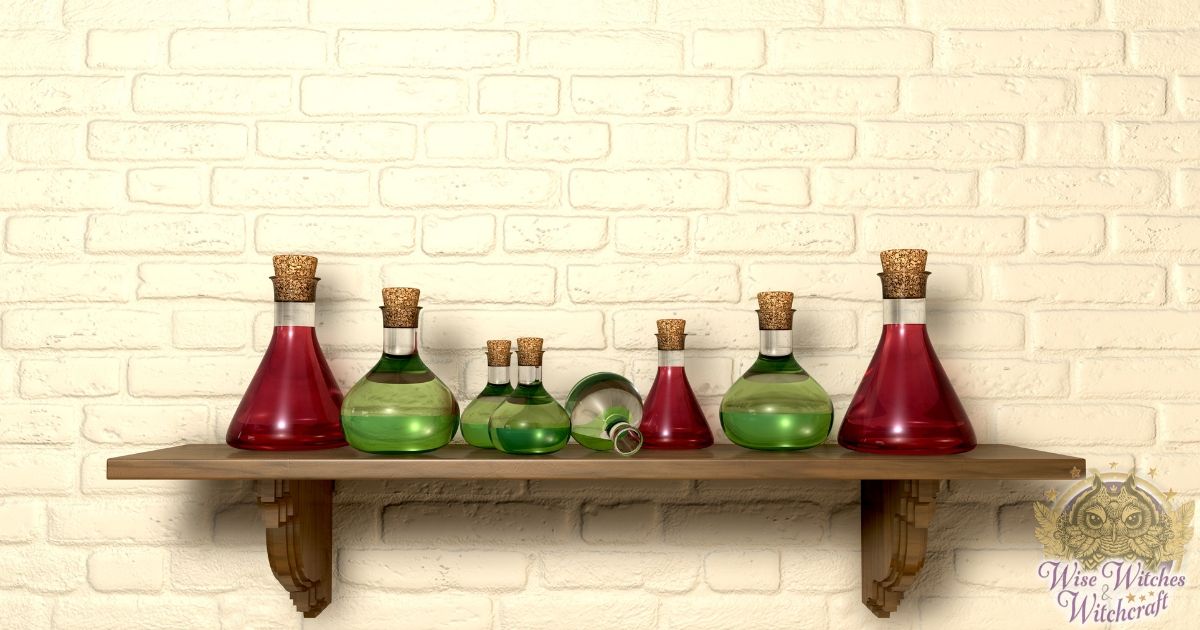 Magical Associations: Balances yin-yang energy for mutually enjoyable physical encounters.
Timing Moon in Gemini for communicating your desires
Background: Banana represents the Sacred Masculine while Mango is the Sacred Feminine. Ginger juice amps up the energy.
1-pint banana ice cream or frozen yogurt
1/2 cup ginger ale
1/2 cup mango juice
1 banana, sliced
Place ice cream, soda, and juice in a blender on a low setting. Slowly add the banana and continue blending until the beverage is smooth, like a milkshake. Enjoy with a garnish of whipped cream and cherries.
Stamina Passion Spell: Peach and Pear Potion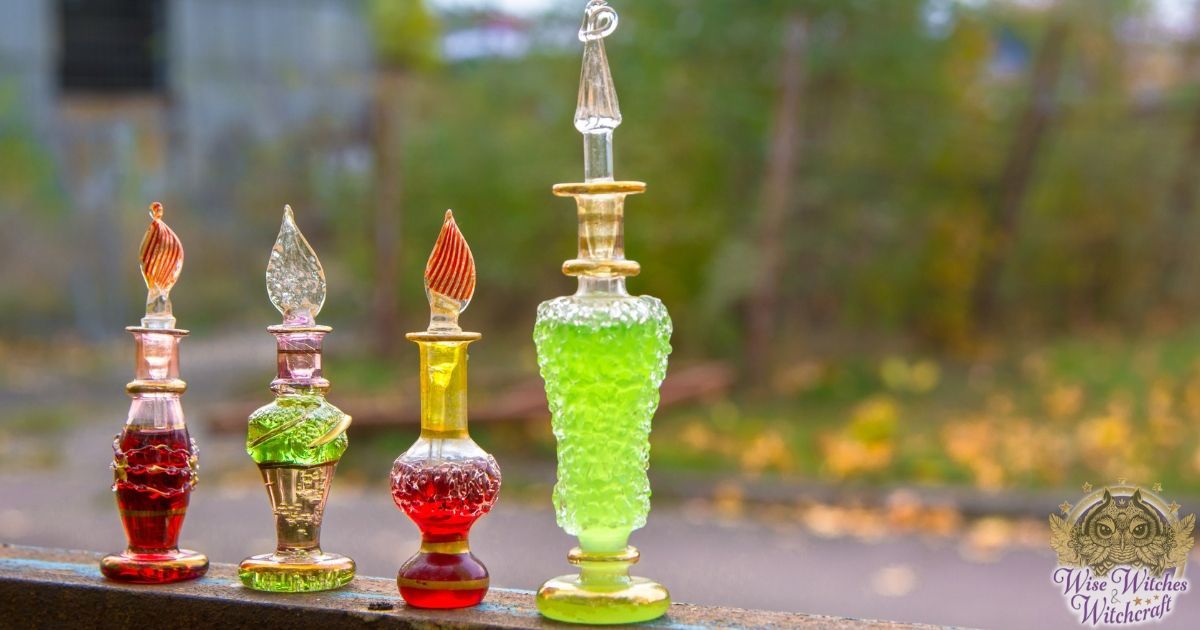 Magical Associations: Helps a couple wishing to conceive out of a joyous, energetic love-making session.
Timing: Moon in Capricorn especially for male virility
Background: Pear and peach both support fertility. According to the Celts, Hazelnut inspires wisdom (what parent doesn't need that?).
2 cups pear juice
1 cup peach schnapps or juice
2 whole cloves
1/4 teaspoon hazelnut extract or flavoring
1 quarter-inch piece ginger root, bruised
2 nutmeg beans
1/4 teaspoon rose water
Warm all ingredients, except the rose water, in a small pan. Simmer until the liquid has a heady aroma. Strain and add the rose water, then serve warm or cold.
Desire Spell: Metheglyn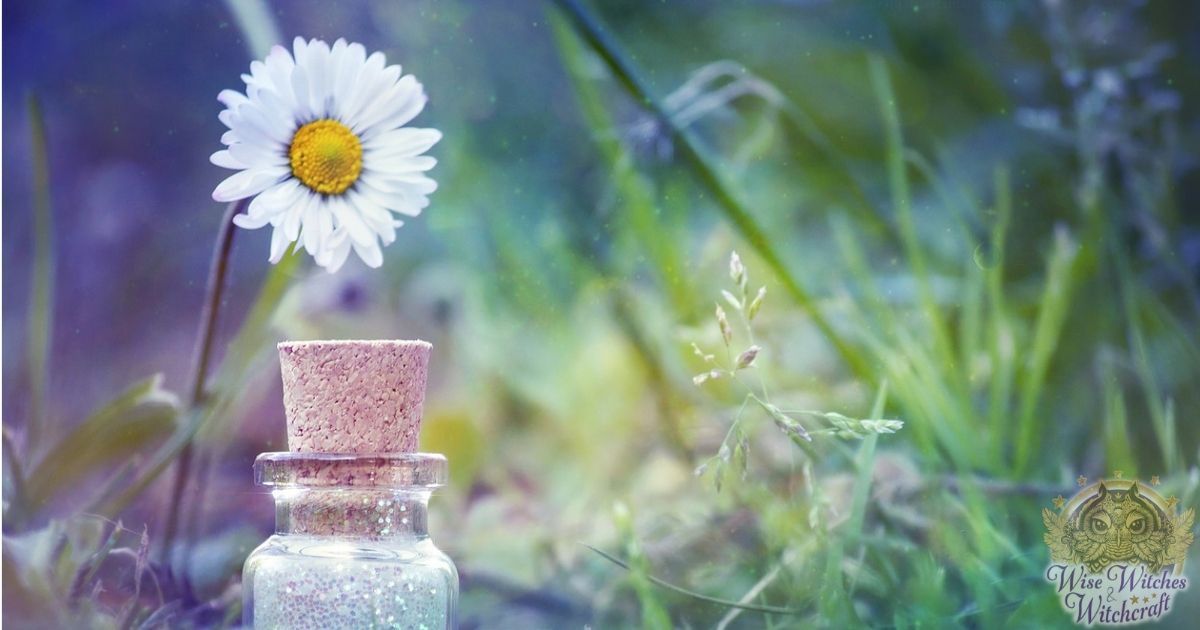 Magical Associations: Metheglyn is a spiced mead often used for health purposes. It restores healthy sexual desire and enjoyment.
Timing: Any Friday. Venus rules Friday, making it ideal for lusty spells.
Background: The foundation for Metheglyn is Mead, given to newlyweds on their marriage night with the hopes of producing a baby.
1-liter mead (honey wine)
3 whole cloves
1/4 teaspoon dried marjoram
1/2 teaspoon ground coriander
1 teaspoon mint
1/2 orange, peeled and sliced
1 teaspoon rose water
Warm the ingredients over low heat until the aroma of the herbs is full-bodied. Strain and serve warm with a fresh slice of orange or apple in each cup.
Based on the "Little Book of Love Magic," by Patricia Telesco. All Rights Reserved.