Magical Stone, Mineral, and Crystal Symbolism: Correspondence List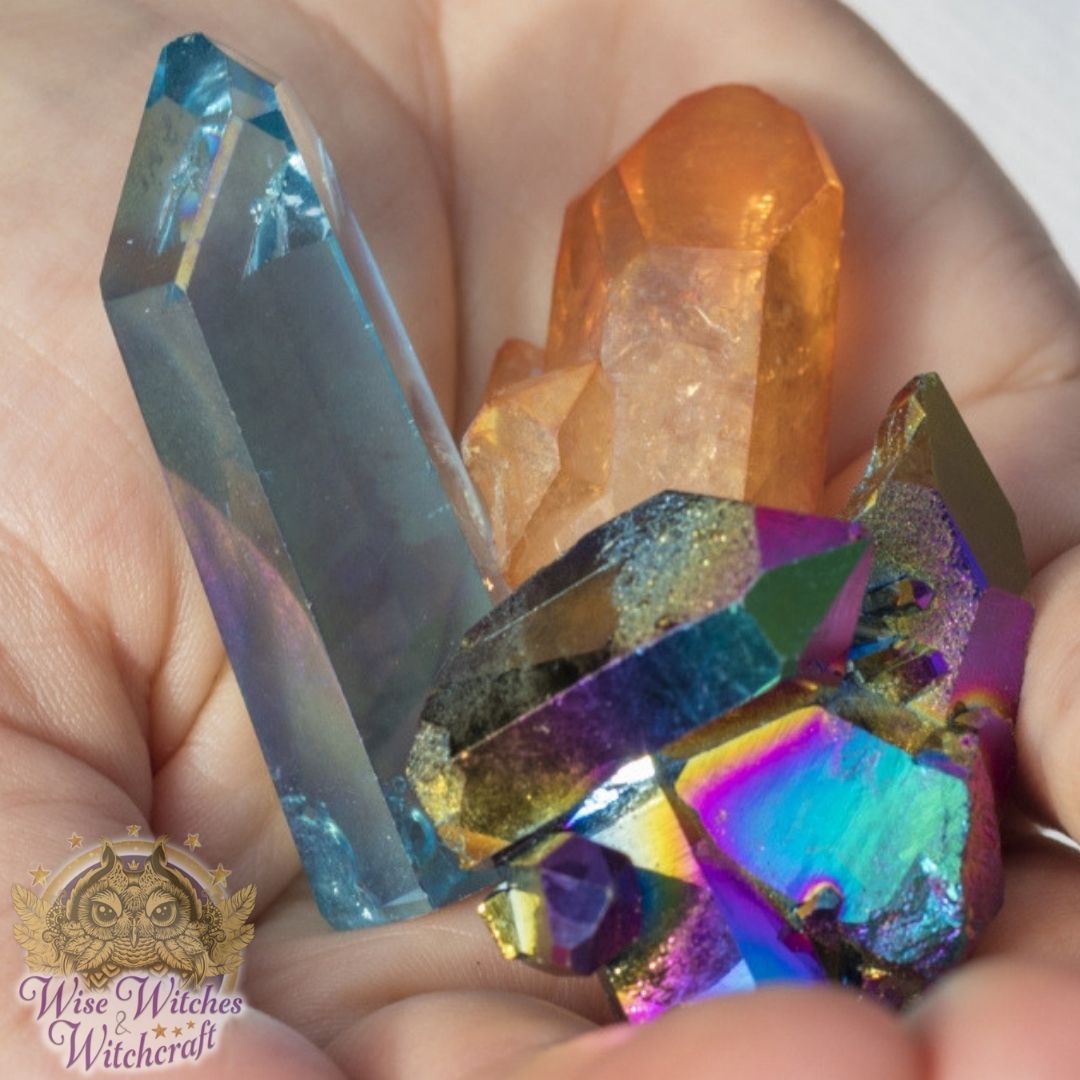 "The universe buries strange jewels deep within us all, and then stands back to see if we can find them." 
― Elizabeth Gilbert
There are so many gifts from nature it's sometimes hard to choose the right component for our magic. We adore crystals because they are so forgiving of coffee and crumbs. The beauty of gems is undeniable. You can almost see the first person who picked one up, watching it twinkle in the sunlight. Is it any wonder they became part of the Witch's toolkit? When putting together your Book of Shadows having a correspondence list like this comes in very handy: Just expand it as you discover more associations.
Charging Crystals and Stones
The world of magical crystals and stones is very diverse. One thing is universal, however. Before you use ANY sacred stone, you need to cleanse away any residual energies. Most of you probably buy your crystals at shops where dozens, if not hundreds of hands touched that one stone. That leaves a mish-mash of vibrations that you don't want in your magic. Lightworkers recommend some simple method for charging your chosen stones so they are at the ready.
Hold or Carry the Crystal with you regularly. This instills the stone with your auric energy pattern. Essentially this is the "getting to know you" phase of working with sacred stones.

    

Put them under your pillow. This continues saturating the stone with your unique vibrations. Additionally, the stone spirit may give you a dream clarifying the best way in which to use it.

    

Place the crystal in rich soil, like your garden bed. Stones are part of the Mother. Earth instills Her own power into your magical tool.
Leave it in sunlight or moonlight for a significant number of hours. For example, as part of a money spell or charm put a piece of brass in the light of the sun for four hours (Numerology tells us that 4 supports prosperity). If the stone is small enough, put it in your wallet!
Cleanse it. Plain old soap and water does the trick. This leaves you with an empty crystal ready to accept whatever energies you place therein. Hold or Carry the Crystal with you regularly like a charm or amulet. This instills the stone with your auric energy pattern. Essentially this is the "getting to know you" phase of working with sacred stones.
Use the Elements: When you know the purpose of a working you can use an Element as a charging medium. For example soak a Jasper or Beryl in water and use it in a ritual for attracting Rain.
Common Magical Crystals, Sacred Stones & Meanings
In part, these became popular because they're easily obtained. In part, we keep using stones and crystals because they work. This list gives you a starting point. Add more as you learn more and keep it in Your Book of Shadows.
Agate
Agate's attributes change according to its colors and patterning. Green agate is often favored among urban shamans for its ability to improve a magical garden's productivity. An eye agate (dark with concentric white circles) is excellent for protection, and predominantly white agate improves truthfulness.
Amber
Best purchased in beads for the budget-minded seeker, amber is associated with the Fire Element that connects us with Father Sky and the sun. Wearing amber strengthens your magical power.
Amethyst
A dreaming stone that calms, soothes and generally helps the bearer live more presently with less stress. Amethyst also reintegrates the psychic self with everyday awareness.
Beryl
A good stone to carry or wear when trying to communicate with weather spirits. Beryl also grants vision and alleviates fear.
Bloodstone
Bloodstone fosters emotional and alternative types of healing.
Brass
[wisew_rectangle_large align="left"] This metal draws prosperity and helps protect any item that you value when placed nearby.
Carnelian
This stone improves self-confidence, especially for public speaking. It is also a helpmate to successful trance journeys.
Cat's Eye
This strengthens the conscious mind and acts to improve financial situations.
Citrine
Citrine is an excellent addition to dream catchers, as this thwarts nightmares.
Copper
A wonderful choice for directing energy where you want it to go, especially in healing.
Coral
This gift of the waters confers inner peace and thoughtfulness.
Flint
The spirit of this stone helps the shaman in healing rituals. It also protects against mischievous nature spirits.
Hematite
Use this to ground and center yourself and live presently.
Iron
[wisew_rectangle_large align="right"]An anti-magic metal, iron also protects against spirits whose natures have been warped somehow.
Jasper
Hold this to commune with the rain spirits and encourage luck.
Lapis
The lapis spirit brings us closer to sacred powers by increasing our devotion and opening spiritual pathways.
Lava
This gift from deep within Earth Mother's womb protects the bearer. When wrapped in a leaf and placed back into the earth, it grants healing.
Lead
Keeping this near your doorway will safeguard your home and the residents from harm and negative magic.
Lodestone
Use this to attract the energies you most need and to improve your will.
Moonstone
A good choice for inspiring self-love and improving overall hopefulness.
Pumice
Sometimes in soap, pumice banishes problems and negativity.
Salt
[wisew_rectangle_large align="left"]A wonderful mineral for cleansing, safety, and keeping both feet on the ground.
Silver
Helps invoke spirits, improves psychic impressions, and encourages the integration of spiritual concepts.
Sodalite
This stone calms one's spirit. Try holding it while you pray or meditate.
Steel
Add this to dream catchers to keep away bad dreams. 
Tin
Put this in power pouches for luck.
Turquoise
Turquoise protects during travel, including through the astral landscape.
In your travels, you are bound to find dozens of other stones not on this list. Learn about them! Discover how they can enrich your magic and your spiritual experiences.
Adapted from "Shaman in a 9-5 World," by Patricia Telesco. All Rights Reserved.