Candle Magic: Facts, Folklore, Helps & Hints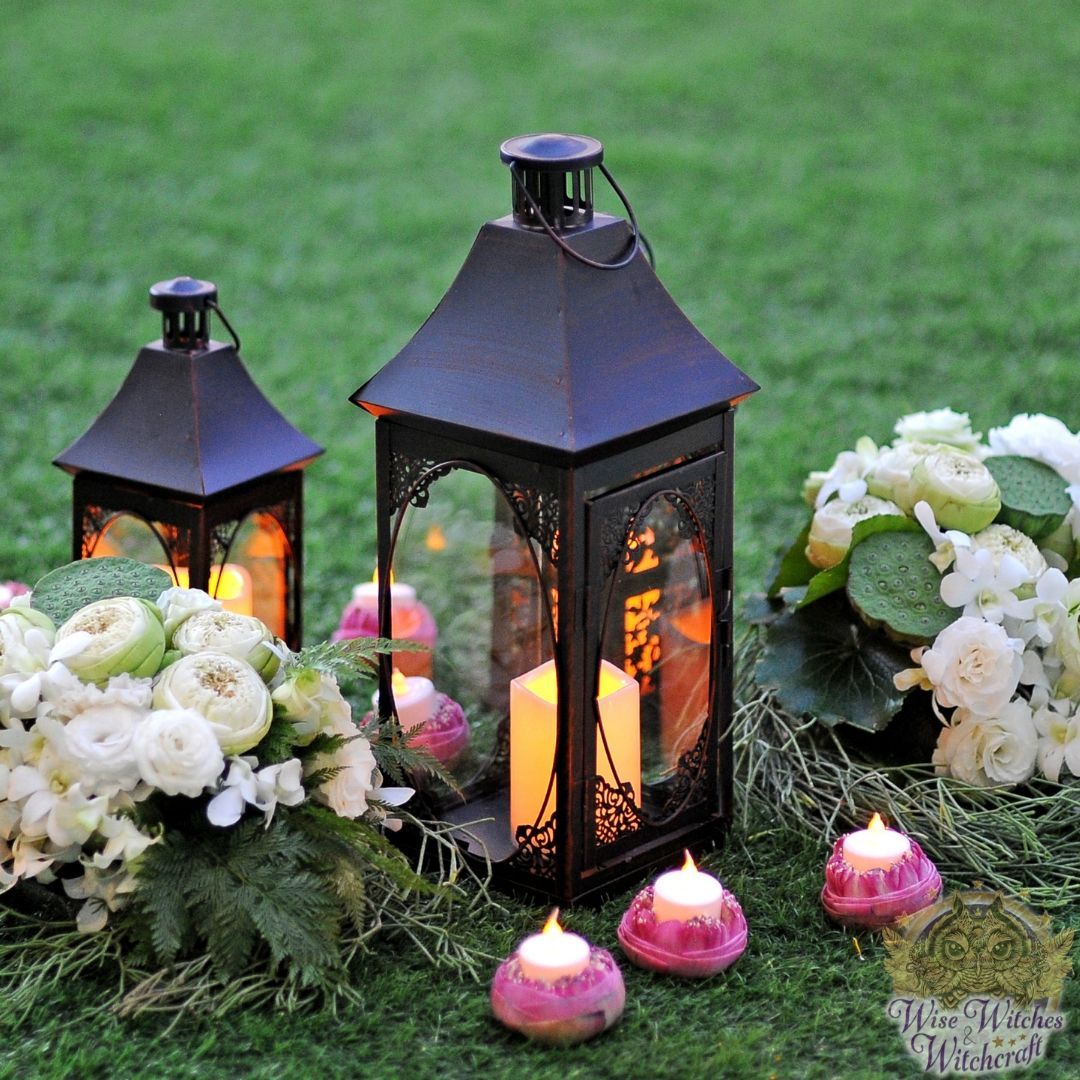 "Look at how a single candle can both defy and define the darkness."
Anne Frank
Candles have a long and shining history. Seeing how people made and used candles inspires many thoughts about our modern magical traditions. As the saying goes, "We've come a long way, baby!"
Candles in History and Using Them for Magic: Just the Facts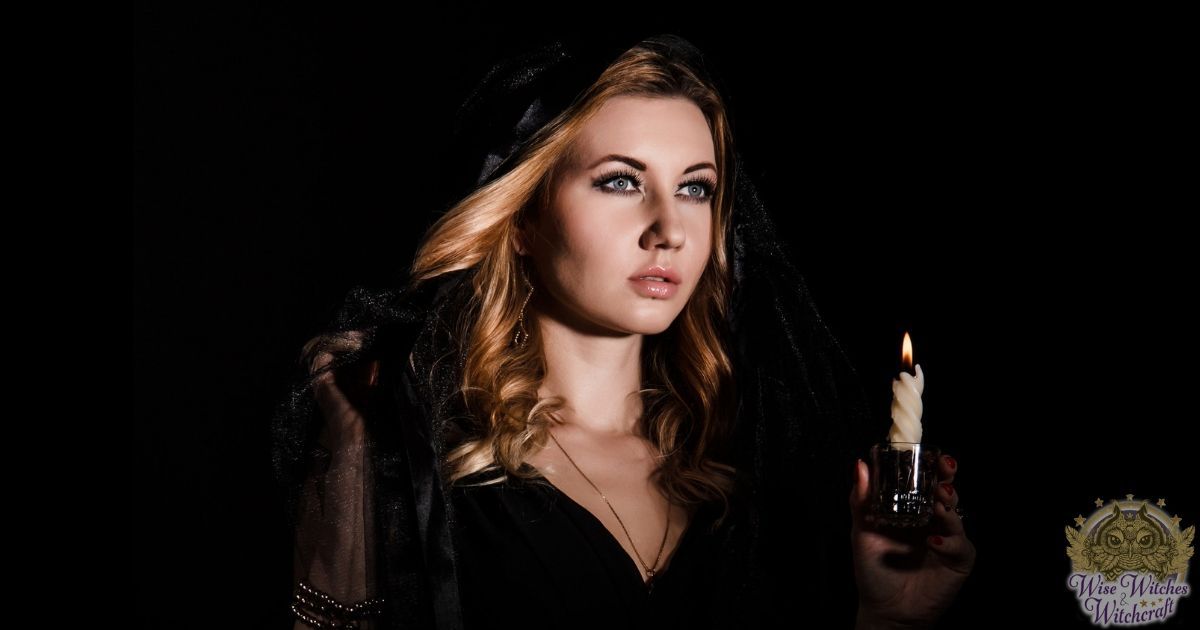 1. History indicates that Egyptians were the first people to make and use candles around the fourth-century B.C.E.
2. Candles are mentioned in Biblical writings as early as the 10th century B.C.E.
3. By canon law, candles used in certain rituals of the Roman Catholic Church must contain not less than 51 percent beeswax. The remainder may be a vegetable or a mineral wax, but not tallow.
4. Greek and Romans were the first to add wicks to the candle's construction.
5. Candles have been made out of a multitude of base materials including tallow, insect wax, seed wax, bayberry, whale Spermaceti, palm leaves, candlefish, paraffin, and tree wax.
[wisew_rectangle_large align="left"]
6. The simplest (and smelliest) candles known as rush light were made by dipping rushes in leftover kitchen fat.
7. The first dipped candles, made with beeswax, originated in the 1200s, followed by molded candles in the 1400s, and then by automated candle-making machines in the 1800s.
8. The English Tallow Chandlers were incorporated in 1462 and they regulated trade in candles made from animal fats.
9. Some of the more advanced candle-makers would bleach their candles by hanging them outside for as long as eight to ten days.
10. Pioneer homes achieved fancy striped effects by using the red juice of poke berries, green from wild nettles, yellow from alder bark, and other natural dye stuffs.
11. In 1834, inventor Joseph Morgan introduced a machine, that allowed continuous production of molded candles by the use of a cylinder, which featured a movable piston that ejected candles as they solidified.
12. Also in the 19th century, changes took place in the design of the wicks used in candles. Instead of being made by simply twisting strands of cotton, wicks were now plaited tightly. As a result, the burned portion curled over and was consumed, rather than falling messily into the melting wax.
13. The term candlepower is based on a measurement of the light produced by a pure spermaceti candle weighing one-sixth of a pound, burning at a rate of 120 grams-per-hour.
[wisew_rectangle_large align="right"]
14. America's first contribution to candle-making was when they discovered that boiling the grayish green berries of bayberry bushes produced a sweet-smelling wax that burned cleanly.
15. The first "standard candles" were made from Spermaceti wax. Spermaceti was obtained through a crystallization process, and it did not elicit a repugnant odor when burned. Furthermore, spermaceti wax was found harder than both tallow and beeswax.
16. Currently there are well over 3,000 types of candles available to businesses and individuals, produced by some 300 manufacturers.
17. U.S. candle consumer retail sales for 2001 are projected at $2.3 billion, not including candle accessories.
18. Candles can range in retail price from approximately 50¢ for a votive candle to around $75 for a large column candle although a specialty candle could be as much as $200.
19. Candle manufacturers' surveys show that 96 percent of all candles purchased are bought by women.
20. Candles are used in seven out of 10 U.S. households. A majority of consumers burn candles for less than three hours per occasion. A majority of consumers also burn candles between one to three times per week, with half of these consumers burning one to two candles at a time.
Candle Folk Beliefs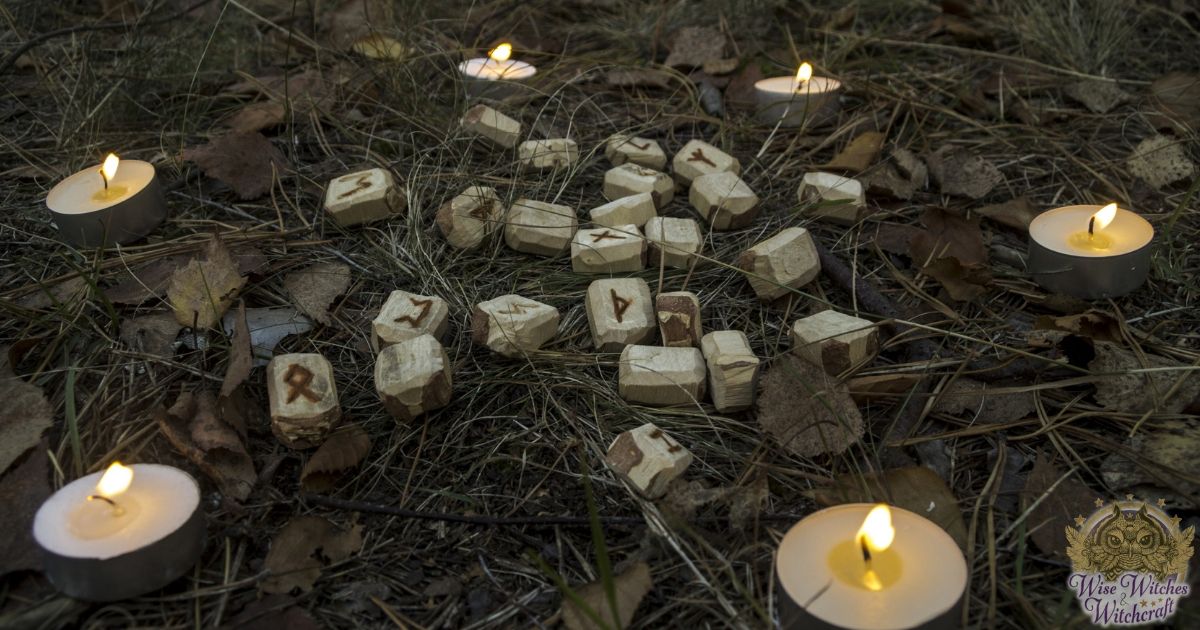 "I learned without her saying a word that there are truly many ways to pray, and lighting a candle is one of them."
― Pat Schneider
Folk beliefs about candles are where the first sparks of magic lie. There were occasions for gifting candles, ways of using them for luck or detecting ghosts, and even dream interpretations. Take a peek:
1. The gift of a candle to newlyweds insures them of providence and fertility.
2. Lighting a candle with your right hand brings luck.
3. Letting candles burn out naturally, especially on special occasions, improves good fortune.
4. To avoid problems, never light more than two candles from one match.
5. Bayberry candles presented on New Year's bring health and money.
6. A candle that goes out without explanation is either a bad omen, or indicates the presence of a restless ghost.
7. A candle that refuses to light portends a storm on the horizon (note the storm can be figurative, like emotional).
8. Candle flames that shape themselves into the form of a ring predict a forthcoming marriage, in the household.
[wisew_rectangle_large align="left"]
9. A burning candle placed inside a hollowed out pumpkin or jack-o'-lantern on Samhain works to keep evil spirits and demons at bay.
10. For good luck, burn black and orange candles on Halloween, then gaze into them to see the future.
11. If a candle falls and breaks in two, double trouble will come to you.
12. To dream of a white candle portends true love.
13. Seeing two candles in a dream is a sign of a forthcoming a marriage proposal.
14. A red candle in a dream symbolizes passion and sexual desire.
15. To dream of five candles predicts love and marriage.
16. To dream of a candle set firmly in a holder is an omen of happy and prosperous future.
17. To dream of a candle holder without a candle in it foretells sorrow.
[wisew_rectangle_large align="right"]
18. Always light candles at moments of birth, marriage, and death. This keeps malevolent spirits away.
19. Light a brown candle Candlemas for protection against ghosts.
20. In Sicily, fishers burn ornate candles for their patron saint to obtain blessings.
21. A pink candle burned on Valentine's Day inspires love and devotion.
22. A burning candle placed in a window will ensure the safe return of a lover traveling abroad.
23. To test the fidelity of a lover, light a candle outdoors near his or her house. If the flame burns towards you the lover is faithful.
24. To reclaim the affections of a lost lover, thrust two pins or needles through the wick of a burning candle as you say his or her name.
25. Light a green candle on a night of the new moon for prosperity.
26. To light a candle from the hearth fire prevents wealth.
Helpful Hints for Candle Magic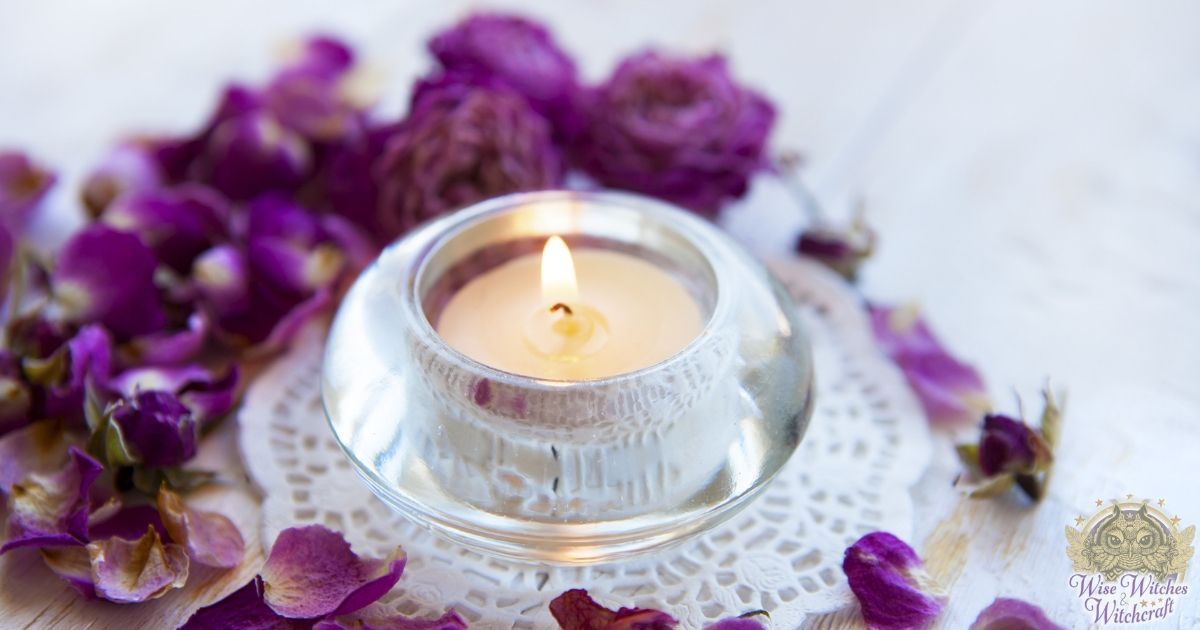 "It's the flame of a single candle which will illuminate the darkest of souls." ―Anthony T. Hincks
When you are a Witch or Pagan whose practiced candle magic for a while you pick up some nifty tricks that have very practical applications. Consider the following:
1. Remove candle wax from fabric by laying newspaper over it and placing a warm iron (set on low) over top and rubbing gently. Repeat, allowing the paper to absorb the melted wax.
2. To dispose of unwanted wax, pour the liquid into a milk carton for garbage disposal.
3. Soft cloths can remove minor bits of dirt or scratches from stored candles.
4. Chilling candles or washing them in cold water first helps them to burn evenly and last longer (freezing also retains the aroma).
5. If a candle loses its aroma, just dab it with some essential oil.
[wisew_rectangle_large align="left"]
6. Wrap scented candles and store them separately from others to keep the aromas from mixing.
7. Trim candle wicks to one-fourth of an inch to avoid soot marks on the ceiling of a room.
8. Use a piece of aluminum foil in the bottom of a candle holder to help keep a wobbly candle steady.
9. When the sides of a pillar candle get too high and extinguish the wick, simply trim back the top of the candle and save the remnants for making another taper!
10. When you are short on time and still want to do a candle spell, use a birthday candle! The budget-minded Witch can go to dollar stores to get inexpensive candles, holders, and even aromatic oils.
11. If possible, get yourself the "aim and flame" type of lighter for Candle Magick. This will keep you from burning your fingers, especially on hard to reach wicks.
Timing Your Candle Magick
The ancients often used propitious timing throughout their week to aid their efforts. This is a very simple idea that you can apply in crafting candle spells, charms etc. Choose the color of a candle by the day of the week, and the energies that day offers you.
Monday
White or silver candles (or very pale blue on a blue moon).
The best day of the week to work Candle Magick for dreaming, working through emotions, gardens, health, cleansing, fertility, goddess-oriented efforts, and psychism.
Tuesday
Red or pink candles.
The best day of the week to work Candle Magick for turning away negative energy purposefully aimed at you, determination, legal matters, expansion, bravery, improved physical strength, and finances.
Wednesday
Purple candles.
The best day of the week to work Candle Magick for improved success in business, courage, clarity, safety abroad, the muse, and opening the lines of communication.
[wisew_rectangle_large align="right"]
Thursday
Dark blue candles.
The best day of the week to work Candle Magick for love, promise making, loyalty, divination, justice, noble ideals, commitment, and respect.
Friday
Green or yellow candles.
The best day of the week to work Candle Magick for developing or improving long-term relationships, kinship, personal growth, peace, passion, and social pleasure.
Saturday
Brown or black candles.
The best day of the week to work Candle Magick for growth, liberation, safety, tying up loose ends, banishing sadness, psychic self-defense, and the longevity of any project.
Sunday
Yellow, gold, orange candles.
The best day of the week to work Candle Magick for god-oriented efforts, glamoury, inventiveness, individuality, self-awareness, logic, hope, success, luck, and learning.
Candle Color Correspondences, Astrological Signs, Attributes, & Sacred Stones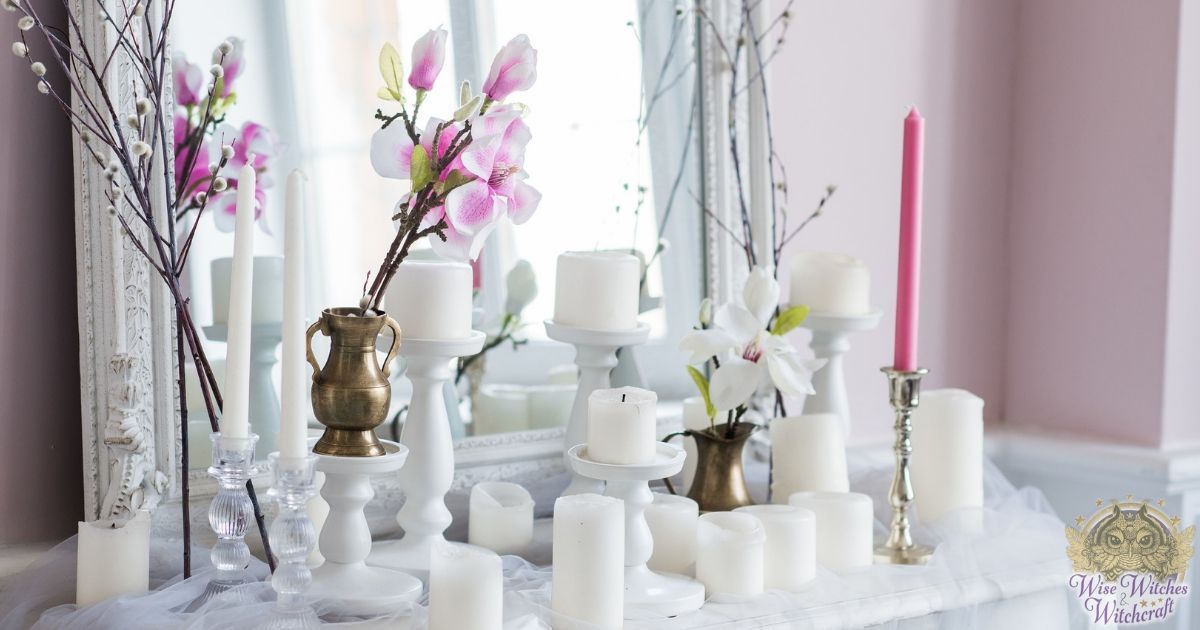 Every color vibrates cooperatively with specific zodiac signs and sacred stones. You can combine this idea in several ways. If you were born under the Astrological sign of Libra, for example, you might carry a jet stone and light a black candle to quiet harsh thoughts.
Black
Virgo, Libra, Capricorn
Banishing, quiet, restfulness, grief, acceptance, parting. Use on Saturday with jet or obsidian.
Blue
Aquarius, Gemini, Libra, Pisces, Virgo
Peace, comprehension, patience, noble ideals, opportunity, trust, truth, justice. Use on Thursday with lapis or turquoise.
Brown
Capricorn, Scorpio, Cancer
Grounding, Earth energies, fate, resolution, hearth and home, balance, foundations, acceptance, Use on Saturday with brown agate or tiger's eye.
[wisew_rectangle_large align="left"]
Gold
Leo, Virgo, Sagittarius
Solar Magick, god-oriented, victory, overcoming, improved outlooks, wealth, honor, longevity, ambition. Use on Sunday with yellow-colored crystals.
Grey
Any Birth Sign
Neutrality, invisibility, compromise. Use any day with gray banded agate.
Green
Aquarius, Pisces, Cancer, Virgo
Growth, health, money, luck, sympathy, Earth Magick, tonic qualities. Use on Fridays with jade moss agate.
Orange
Sagittarius
The harvest, encouragement, joy, motivation, fertility, self-confidence, abundance. Use on Sunday with crystals, such as carnelian.

Pink
Taurus, Aries
Friendship, honor, goodness, peace, romance, emotional healing, sleep, forgiveness. Use on Friday with rose quartz.
Purple
Aquarius, Pisces, Libra
Spirituality, wisdom, psychism, dream work, happiness, comprehension, spiritual healing. Use on Thursday with amethyst or sugilite.
Red
Taurus, Gemini, Leo, Aries, Scorpio
Power, passion, health, courage, Fire Element, energy, tenacity, mental keenness, strength, overcoming. Use on Tuesday with red crystals such as Jasper.
[wisew_rectangle_large align="right"]
Silver
Cancer
Moon Magick, goddess-oriented, divination, astral work, insight. Use on Monday with white-colored stones.
White
Pisces, Aries
Cleansing, truth, purity, enthusiasm, healing, goddess energy, focus, protection, consecration, connecting with spirit guides, beginnings. Use on Monday in combination with clear quartz or white stones.
Yellow
Taurus, Leo, Sagittarius, Gemini
Communications, certainty, Air Element, business improvements, improved memory and concentration, the conscious mind. Use on Wednesday with citrine.
Note: Various sources disagree on the astrological associations for colors. These are the most consistent. Visit our sister site BuildingBeautifulSouls.com if you'd like to learn more about the meaning and symbolism of Color in Magic.
Based on "Mastering Candle Magic," by Patricia Telesco. All Rights Reserved.