Goddess and Magical Witch Gardens: Moon & Crystal Techniques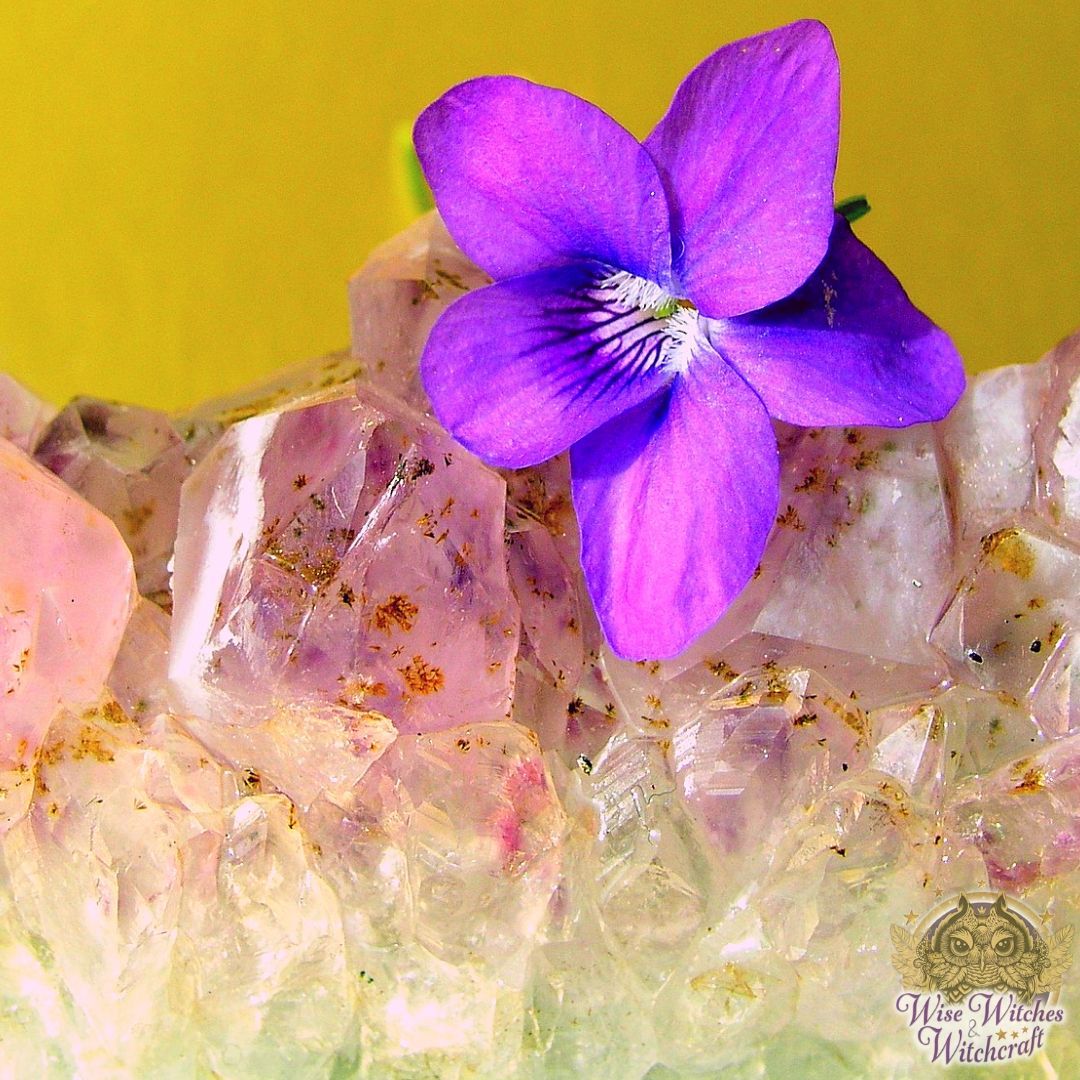 "A garden is evidence of faith. It links us with all the misty figures of the past who also planted and were nourished by the fruits of their planting."
– Gladys Taber
The ancients believed that Witches received power from the moon. For the Goddess gardener, the moon is also a symbol of the Lady herself. In literally hundreds of ancient settings, people characterized the moon as female. Her names were many. They include Chia (Columbian), Hina (Polynesian,) Luna (Roman), and Selene (Greek), to name just a few.
Beyond the symbolic value here, our ancestors felt that timing the planting, tending, and harvesting of one's plants could be more effective if we followed moon signs and moon cycles. For example, when the moon was dark, it was time to plant underground vegetables. When the moon was waning, it was time to plant peas or other items that vine counterclockwise. According to most talented gardeners, many of these hints really work.
Goddess Gardening by Zodiac Moon Signs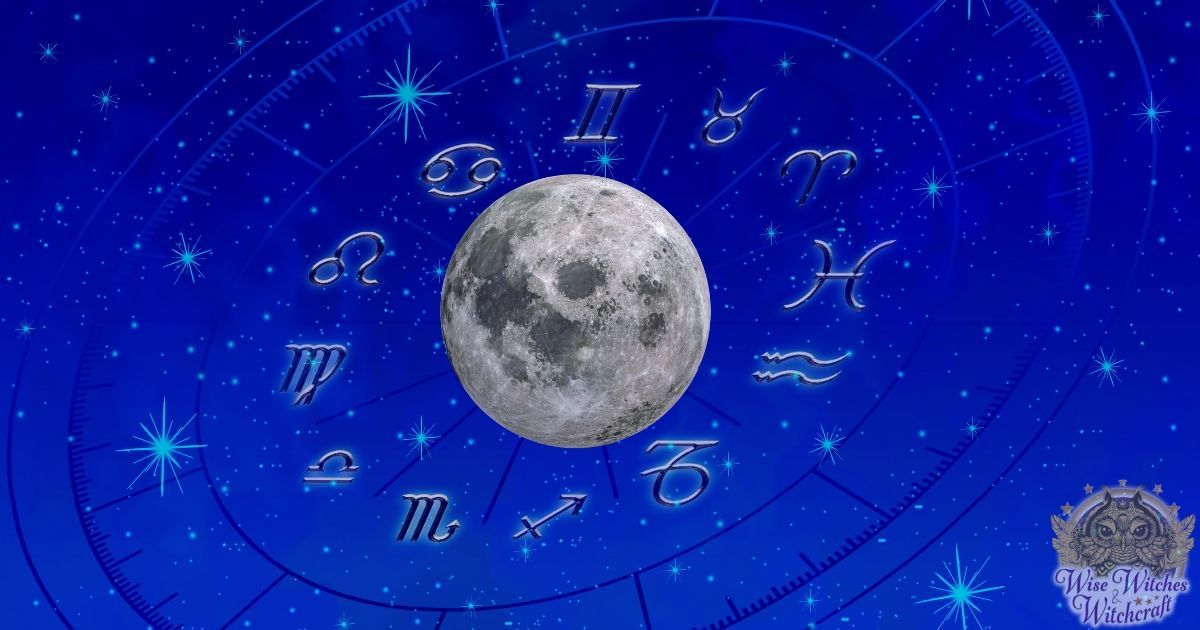 If you'd like to apply Moonsigns in your Goddess garden plans, here's a list that will help you:
Moon in Aries: Plant garlic and onions, but nothing that requires really fertile soil.
Moon in Taurus: Plant potatoes, root crops, leafy vegetables, and bulb-bearing items.
Moon in Gemini: Weed and cultivate or harvest root crops.
Moon in Cancer: Graft, sow, transplant, and force budding.
Moon in Leo: Deter bugs using natural treatments and companion planting. Harvest items.
Moon in Virgo: Plant morning glory, honeysuckle, tulips, and endive. Avoid any other cultivation.
Moon in Libra: Plant above-ground flowers and vegetables.
Moon in Scorpio: Plant vining greenery, berries, and grains.
Moon in Sagittarius: Plant onions. Transplant and preserve your harvest.
Moon in Capricorn: Plant root crops and tubers. Fertilize the soil.
Moon in Aquarius: Cultivate, weed, and turn the soil.
Moon in Pisces: Work with plants that require strong root growth, such as asparagus. Sew aromatic flowers.
Visit our Sister Site BuildingBeautifulSouls.com for more information into the symbolism and meaning of Zodiac signs.
Magical Gardening by Moon Cycles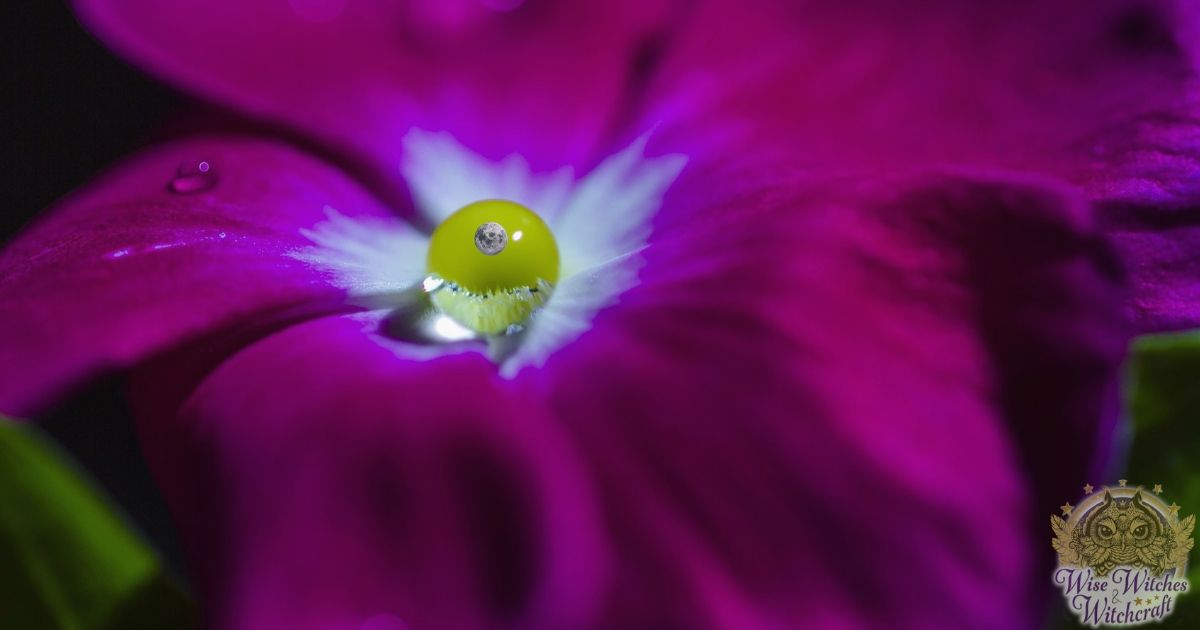 Look up! How much of the moon do you see? Throughout the month the size of the moon waxes and wanes. Each quarter has magical vibrations for consideration in the Witch's garden.
First Quarter
Plant annuals and vegetables that yield the fruit above ground (such as celery and lettuce). Green vegetable and herbs (such as cabbage and basil) seem to like this phase.
Second Quarter
Plant any "roundish" flora and vegetables (such as tomato and melon) and any flowering vines.
Third Quarter
Plant root crops and bulbs or anything that yields below ground (such as garlic). This Quarter is also good for fruit-bearing plants (such as strawberry and cherry).
Fourth Quarter
Let the land rest. Weed your soil, and then turn and fertilize it.
Note that gardening by moon sign and moon phases work together nicely. For example, if the moon happens to be in Aquarius at the same time, it's in the fourth quarter, this would double the effect of weeding and turning the soil. After the quarter passes, move forward knowing that the land is rejuvenated!
Crystals in Goddess and Witches Gardens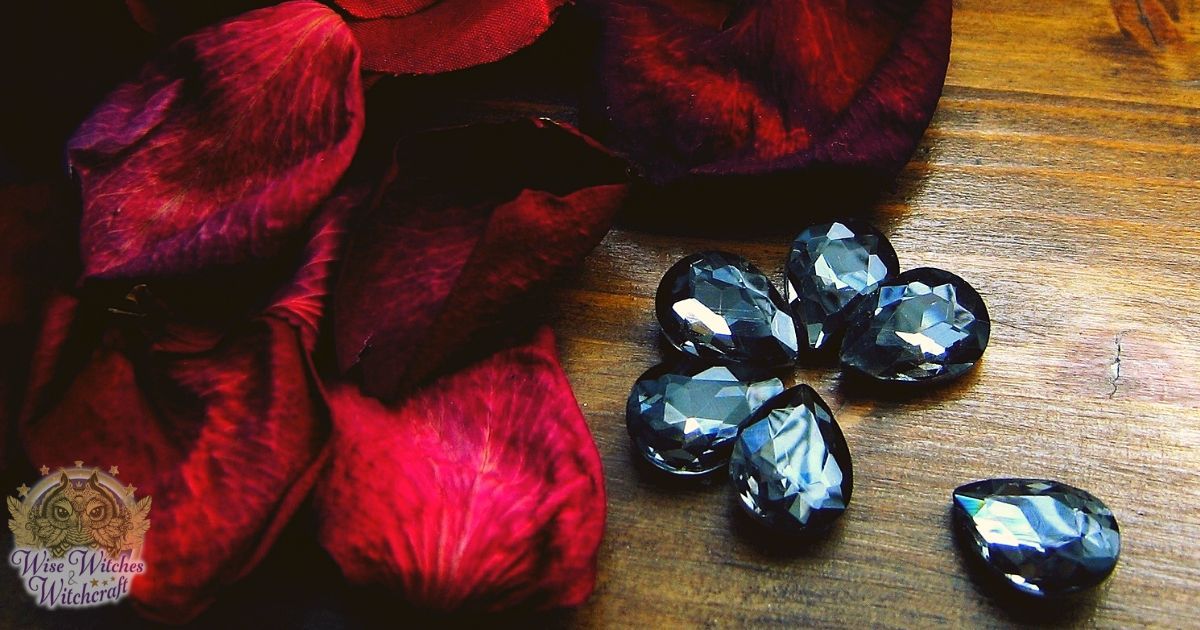 "More things grow in the garden than the gardener sows."
– Spanish Proverb
Stones, gems, minerals, and seashells appeared on altars to the Goddess as adornment and gifts throughout history. All things of beauty are under Her watchful eye, and crystals are certainly no exception. Some gems and stones have helpful vibrations for magical gardening efforts. For example, old-time lore tells us that carrying moss agate with you whenever you garden, it ensures an abundant yield. Wear it on your right arm for the best results.
Likewise, moonstone and lodestone both improve any type of plant growth. Put Moonstone directly in the soil and lodestone around the border of the garden. This effectively creates a miniature ley-line grid around your sacred gardening space.
You can apply sacred crystals in several other ways in the Goddess Garden. As an unintended benefit, they're pretty too! Try putting stones and crystals sacred to the Goddess being honored on the land as an offering and memorial to her. Alternatively, or in addition to that, match the stones and crystals with the energies of the plants to which they sit adjacent. As an illustration, lavender seems to like the vibrations of amethyst, so pair them up!
Elemental Crystals for Companion Planting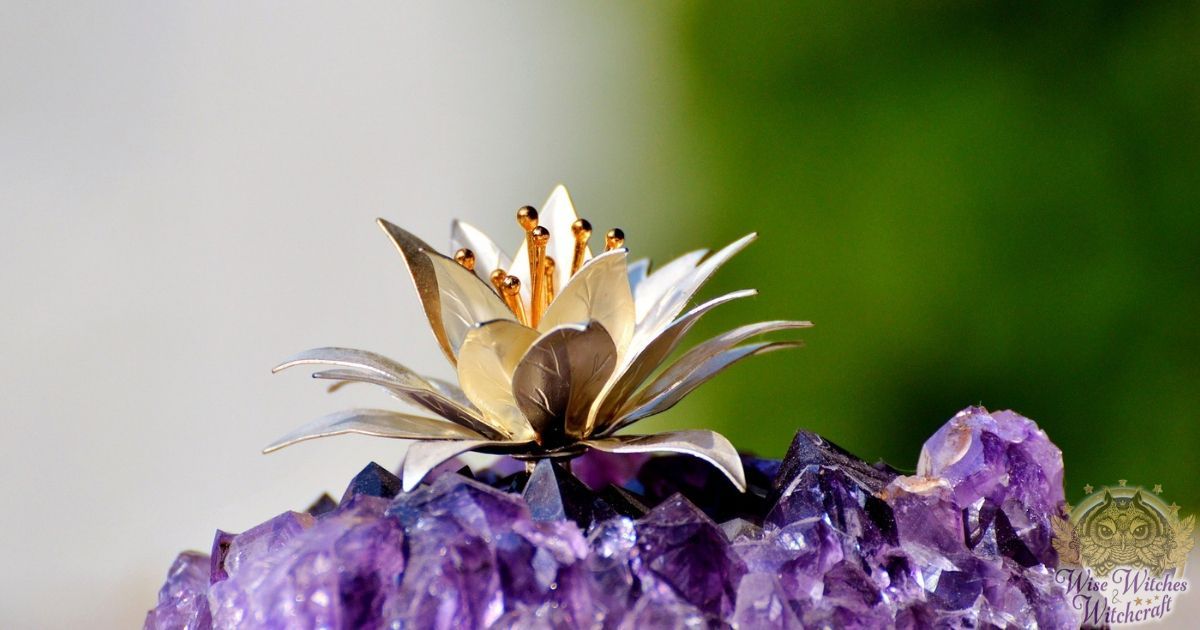 There is an established system of companion planting utilized by organic gardeners. Crystal companion planting works similarly. Here the Elements with which sacred stones align helps you pair the right plant with the right stone for best results. This augments Elemental energies already present in your Goddess Garden.
Earth Element
Stones include green agate, cat's eye, coal, jet, malachite, salt, green tourmaline, and turquoise. Plants include: alfalfa, beet, corn, ferns, honeysuckle, mugwort, patchouli, peas, potatoes, primrose, tulip, and vetivert.

Air Element

Stones include aventurine, mixed-color jaspers, mica, and pumice (or alternatively pale yellow or whitish stone: Plants include anise, beans, bergamot, caraway, clover, dandelion, endive, lavender, lily, marjoram, mint, mulberry, parsley, and sage.

Fire Element

Stones include any red- or orange-colored crystals and rocks, dark agates, amber, onyx, obsidian, pipestone, carnelian, bloodstone, quartz, lava, garnets, tiger's eye, and topaz. Plants include allspice, basil, bay, cactus, carnation, celery, chrysanthemum, dill, fig, garlic, holly, juniper, marigold, mustard, onion, pennyroyal, pepper, radish, rosemary, snapdragon, sunflower, woodruff, and yarrow.

Water Element

Stones include blue or green crystals, lace agate, amethyst, aquamarine, coral, geodes, jade, lapis, moonstone, pearl, sodalite, sugilite, blue tourmaline. Plants include aloe, apple, birch, blackberry, cabbage, catnip, chamomile, crocus, cucumber, daisy, elm, foxglove, gardenia, grapes, gourds, iris, lettuce, lilac, morning glory, raspberry, rose, strawberry, tansy, thyme, violet, and willow.
Putting this information together in the Witches garden isn't difficult. Begin with a circular space. Sow Earth stones and plants in the North, Air stones and plants in the East; Fire stones and plants in the South, and Water stones and plants in the West. You now have an Elemental mandala and sacred space, the center of which is ideally suited to casting spells or meditating.
Visit our sister site BuildingBeautifulSouls.com if you want to learn more about the powers and symbolism behind the Four Elements.
Planetary Rulers and Crystal Companion Planting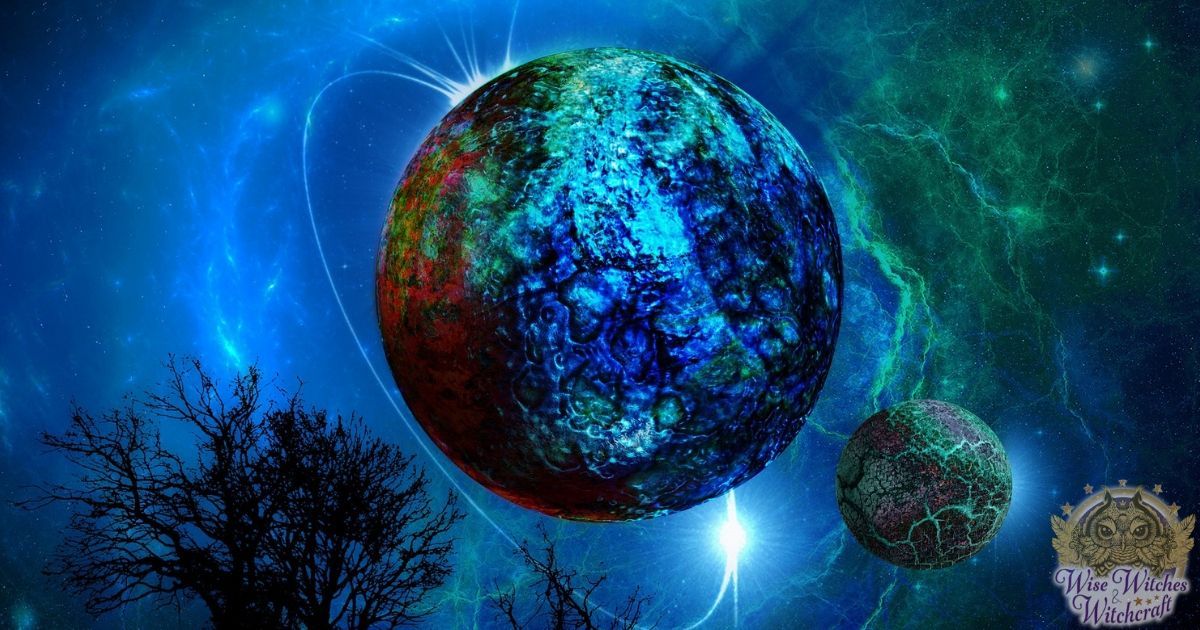 Our ancestors categorized each item on the Earth, assigning a ruling planet. If you'd like to do a planetary-themed garden in cooperation with your Goddess landscaping, Use this information as a guide:
Planetary Ruler the Sun: Sun and stone plants are useful in magick that pertains to legalities, awareness, safety, wellness, the Fire Element, and vitality. Stones include amber, carnelian, sunstone, tiger eye, and topaz. Plants include carnation, chamomile, chrysanthemum, juniper, marigold, peony, rosemary, and sunflower.
Planetary Ruler the Moon: Moonstones and plants may be applied in magick improving divinatory ability, creativity, relationships, fertility, and kindness. Stones include aquamarine, beryl, quartz ear), moonstone, and selenite. Plants include cabbage, cucumber, gardenia, gourds, grapes, lettuce, lily, poppy, potato, and turnip.
Planetary Ruler Mercury: The stones and plants from your Mercury garden create energies for learning, applying knowledge, personal growth, communication, safe travel, and sensibility. Stones include agate, jasper, mica, and pumice. Plants include beans, celery, clover, dill, ferns, lavender, marjoram, mint, and savory.
Planetary Ruler Venus: The stones and plants ruled by Venus bear magick of joy, passion, fortune, devotion, and love. They are excellent for deepening the meditative state. Stones inch calcite, cats-eye, coral, jade, lapis, sodalite, tourmaline, and turquoise. Plants include alfalfa, blackberry, catnip, crocus, daffodil, daisy, geranium, iris, lilac, magnolia, pea, periwinkle, rose, tulip, and violet.
Planetary Ruler Mars: Mars encourages bravery, boldness, sexual enjoyment, safety, and protection. It also emphasizes the god aspect. Stones include bloodstone, garnet, lava, onyx, rhodochrosite, sardonyx, and red tourmaline. Plants include basil, cactus, carrot, coriander, garlic, holly, mustard, onion, peppers, radish, and thistle.
Planetary Ruler Jupiter: Although not as many items are found under this planet's dominion, Jupiter promotes a high spiritual vibration and understanding. Stones include amethyst and sugilite. Plants include borage, dandelion, fig, honeysuckle, linden, maple, a sage.
Planetary Ruler Saturn: Saturn is associated with magick for building strong foundations, protection, cleansing, and good fortune. Stones include coal, hematite, jet, obsidian, onyx, and salt, Plants include beet, elm, hemlock, ivy, morning glory, pansy and yew.
Planetary Ruler Neptune or Pluto: Our ancestors did not know about these planets. This leaves modern metaphysicians working on updating correspondences, but fixed meanings aren't fully developed or agreed upon yet.
Magickal Correspondences for Crystal Companion Planting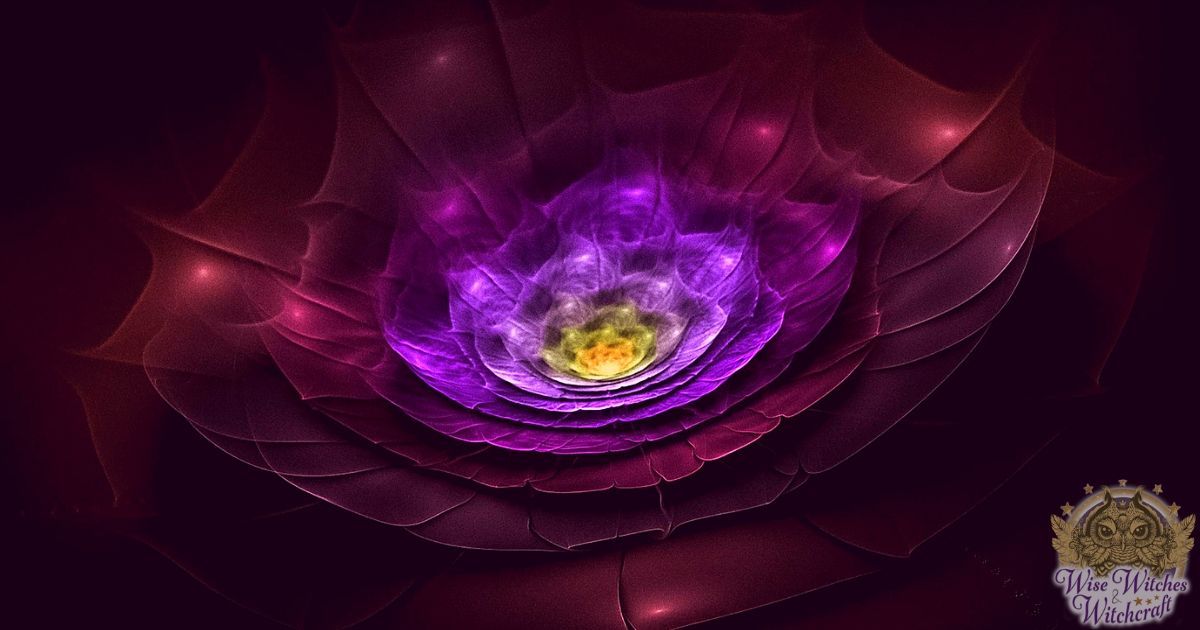 Augmenting a plant's basic metaphysical correspondences with a crystal that matches that vibration is pretty easy. This list will get you started.
Intention, Plant(s)/Companion Crystal(s)
Astral Awareness
Poplar/Quartz Point
Attractiveness
Catnip/Cat's-Eye
Bravery
Borage/Agate (eye)
Peas/Bloodstone
Thyme/Turquoise
Cleansing
Chamomile/Aquamarine
Horseradish/Calcite
Lavender/Salt
Rosemary/Clear Quartz
Divinatory ability
Dandelion/Hematite
Meadowsweet/Jet
Fig/Moonstone
Hibiscus/Obsidian
Dreams
Marigold/Amethyst
Onion/Azurite
Friendship
Passion flower/Turquoise
Gardening
[wisew_rectangle_large align="left"]Chamomile/Moss agate
Joy
Catnip/Amethyst
Hyacinth/Chrysoprase
Health (general)
Juniper/Aventurine
Geranium/Agate
Marjoram/Bloodstone
Tansy/Coral
Thyme/Turquoise
Love
Basil/Agate
Catnip/Alexandrite
Chamomile/Amber
Daffodil/Amethyst
Daisy/Beryl
Dill/Jade
Gardenia/Lapis
Hyacinth/Malachite
Lavender/Moonstone
Myrtle/Rhodochrosite
Peas/Topaz
Periwinkle/Tourmaline
Rose/Turquoise
Luck
Bluebell/Alexandrite
Cabbage/Amber
Daffodil/Apache Tear
Ferns/Aventurine
Heather/Chrysoprase
Holly/Jet
Moss/Olivine
Poppy/Sardonyx
Rose/Tiger eye
Strawberry/Turquoise
Mental Keenness
[wisew_rectangle_large align="right"]Celery/Aventurine
Grape/Fluorite
Lily of the valley
Passion and Sexual Performance
Beans/Carnelian
Oak/Sunstone
Peace
Gardenia/Amethyst
Lavender/Coral
Morning glory Malachite
Pennyroyal/Sodalite
Protection/Safety
Aloe/Agate
Birch/Amber
Cactus/Apache Tear
Chrysanthemum/Carnelian
Dill/Cat's-eye
Garlic/Citrine
Heather/Coral
Ivy/Quartz
Lettuce/Jade
Marigold/Jasper
Mint/Jet
Mustard/Malachite
Onion/Obsidian
Peony/Tiger eye
Peppers/Tourmaline
Psychic Awareness
[wisew_rectangle_large align="left"]Celery/Amethyst
Honeysuckle/Beryl
Marigold/Citrine
Rose/Lapis
Thyme/Moldavite
Professional success
Clover/Bloodstone
Lemon balm/Malachite
Sleep
Chamomile/Moonstone
Lavender/Tourmaline
Spirituality
Gardenia/Labradorite
Lotus/Sugilite
Wisdom
Dandelion/Coral
Sage/Jade
Violet/Sugilite
Use this list as a guide, not an edict. Each crystal and stone had a personality all its own (just as every plant does). If you feel that a particular stone should be matched with a plant that doesn't appear on this list, by all means, trust your instincts or consult your Goddess. These will rarely steer you wrong.
Article based on "Gardening with the Goddess," by Patricia Telesco. All rights reserved.