Magical Meals: Setting the Stage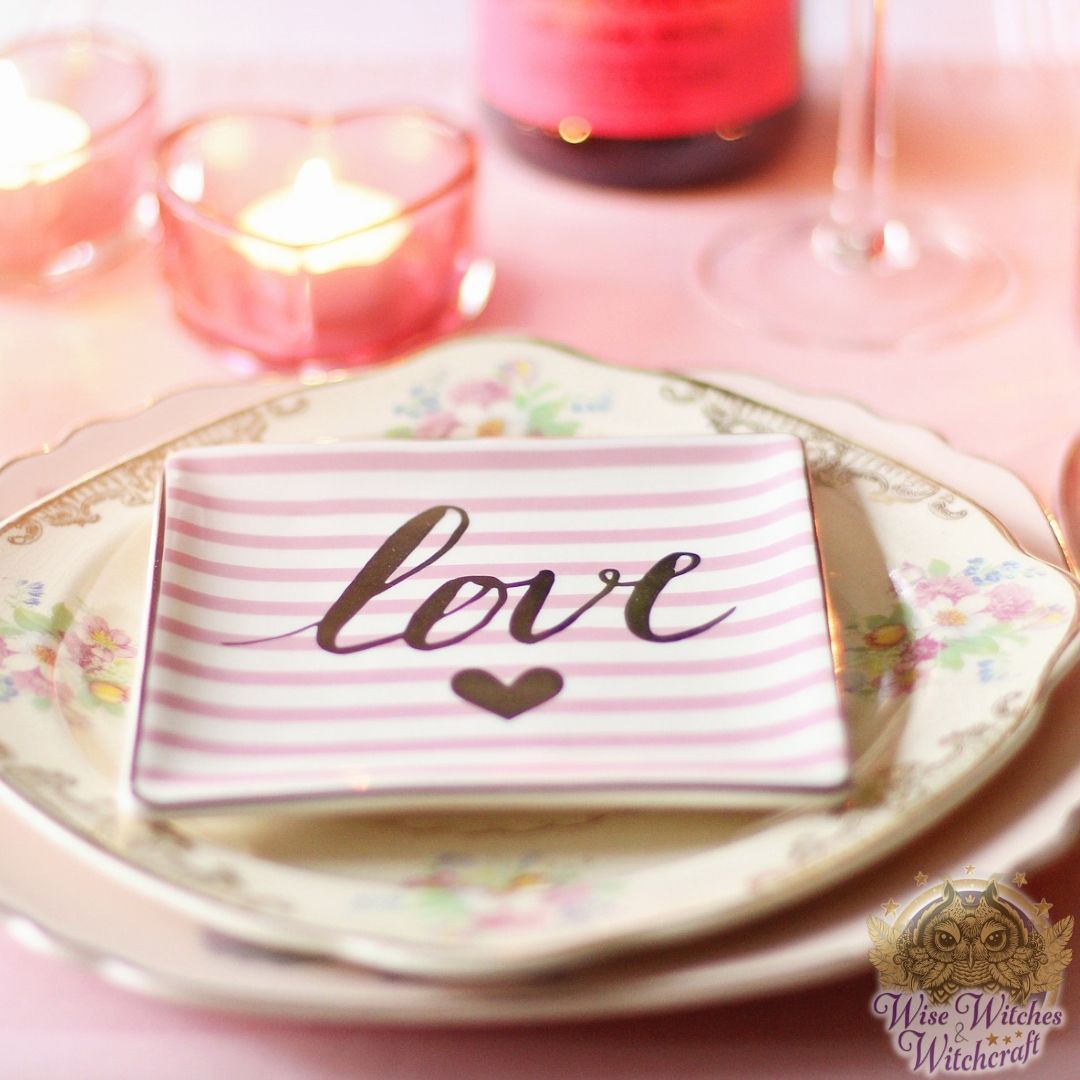 "Familiarity breeds attempt."
-Goodman Ace
Something about delicious food arouses our passion for good company. Combining just the right magical atmosphere with enchanted food and drink makes Cupid's job a lot easier. Music, colors, and decorations create many different moods, often using the same basic ingredients. Here are some ideas for whipping up some marvelous, magical energy for any special meal.
Good Vibrations: Kitchen Witch Magic and Ambiance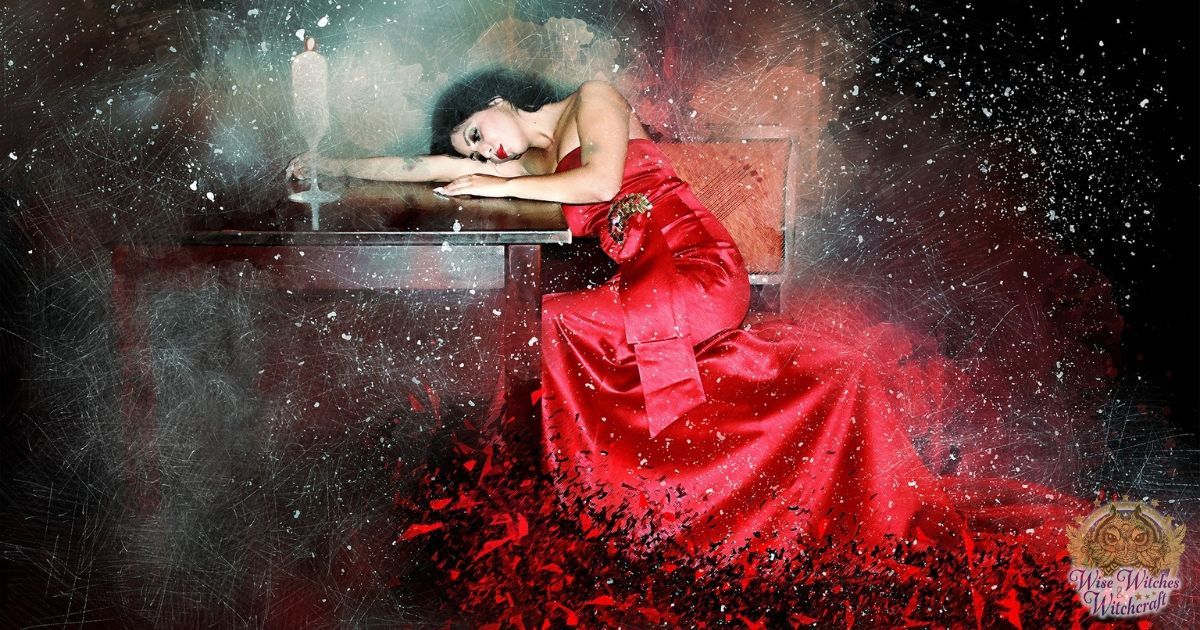 The color, shape, aroma, and placement of a candle delineate its magical purpose. In choosing colors, look for associations shared later in this article. For shapes, notice what immediately comes to mind when you see different candles. Round ones accent unity and fertility, square ones emphasize strong foundations, and heart-shaped ones energize all love types. It doesn't hurt to keep a variety of candles on hand, so you're ready for anything. After all, Pagans and Witches can never have "too many" candles.
Candle Magick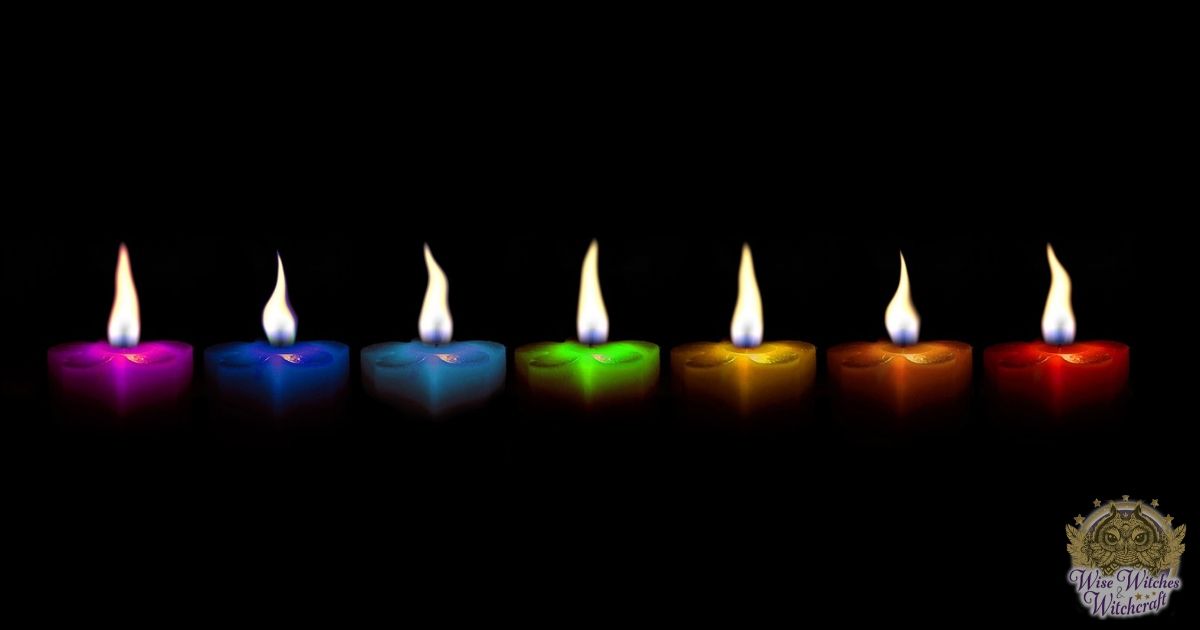 For scents, candles are more subtle than air fresheners and easier on allergy sufferers. Either buy a pre-scented candle or dab a little essential oil on it before lighting. Choose an appropriate aromatic like rose for love, amber for passion, ginger for sexual confidence, or neroli for happiness. As you dab on the oil and light the candle, add an incantation like this:
For intimate evenings:
"Flame burn true, flame burn bright,
kindle our love, our passion ignite."
For friendship:
"The light of kindness, the light of peace,
let love in this friendship never cease."
The placement of the candle(s) also adds meaning. For a romantic evening, put one next to the bed, for a quiet time of sharing, in the dining room or living room.
Clothing Magick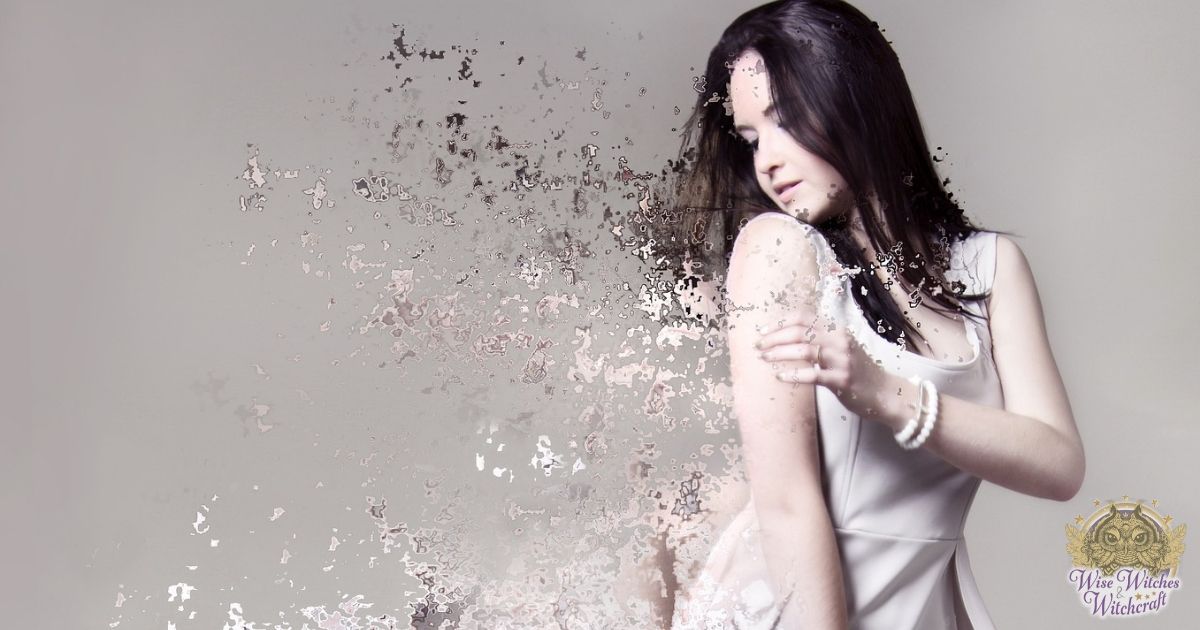 If clothes make a person, consider what signals your clothing conveys. If meeting a friend, wear something comfortable accented with a piece of jewelry or clothing he or she gave you; this symbolically reaffirms your connection. For a date, wear colors that accent your mood. Bright hues are more playful than duller colors. Medium tones take the proverbial middle-ground. Deep pigments indicate seriousness or intensity. For family, yeah, you have to drag out that ugly sweater from grandma, but it's worth it when you see her happy.
As you get dressed, visualize your clothing absorbing sparkling light. It will let your spiritual nature shine. You can also create incantations to go with your wardrobe. For example, bind energy into your tie, saying, "With the knot of one, the magic has begun."
Or energize that little black dress, saying:
"While in this dress, I'll look my best,
Love through me shine, true love be mine!"
If things turn out poorly, put your clothes in the laundry right away, thereby removing any lingering negativity; this way, you don't keep excess stress in your home's sacred space.
Color Magick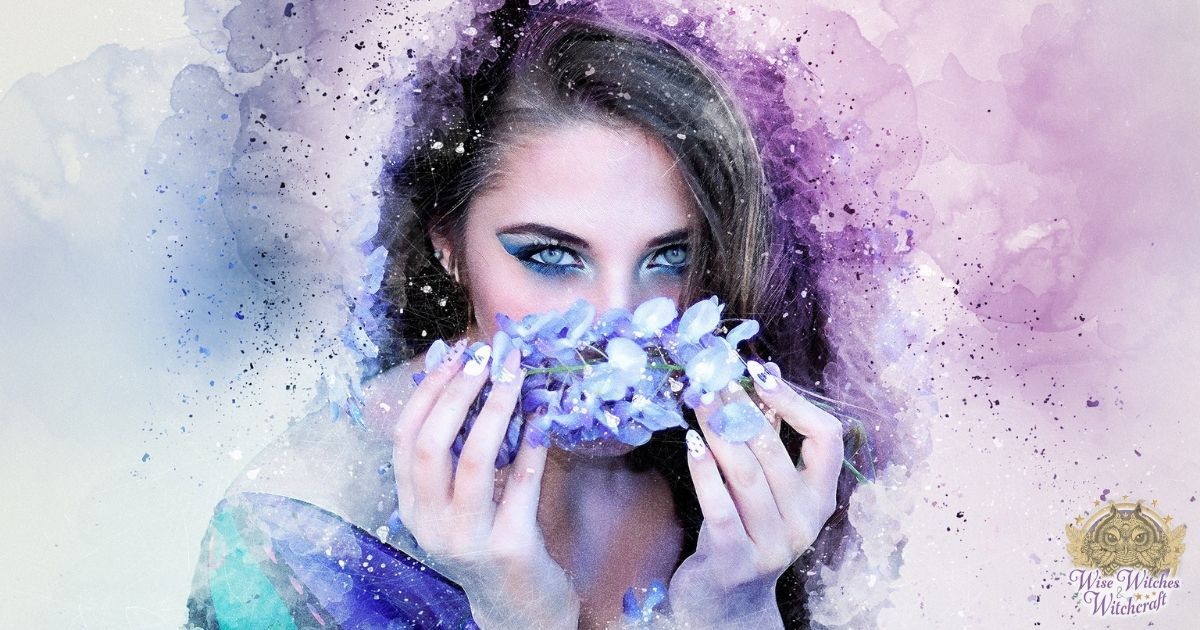 Colors emit distinct vibrations that affect the way humans feel and behave. Watch the different energy levels of a child playing in a room painted brightly versus a room painted a dark color. Chances are good the child will be more active in the presence of bright, life-affirming colors.
Color accentuates your magical ambiance, blatantly, or subtly. Trust your instincts and refer to the following list for choosing specifically colored accents-from flowers and table settings to candles and light bulbs. The clever Kitchen Witch also knows she can apply these correspondences to her menu choices.
Red: Energetic, passionate, vibrant, earnest..
Pink: Friendly, playful, sociable..
Orange: Magnanimous, generous, cordial .
Yellow: Warm, considerate, creative, harmonious.
Green: Productive, progressive, fertile.
Blue: Quiet, mysterious, thoughtful, peaceful.
Purple: Whimsical, spiritual, mystical.
Brown: Constructive, grounded.
Black: Restful, serious, solemn.
White: Protective, cleansing, pure intent.
Imagine you are meeting a friend with whom you have recently argued. You might want to include white and blue in your accent colors, encouraging ethical, peaceful vibrations. Perhaps also use some pale purple flowers to inspire a lighter-hearted attitude and green foliage so the meeting is productive.
Decoration Magick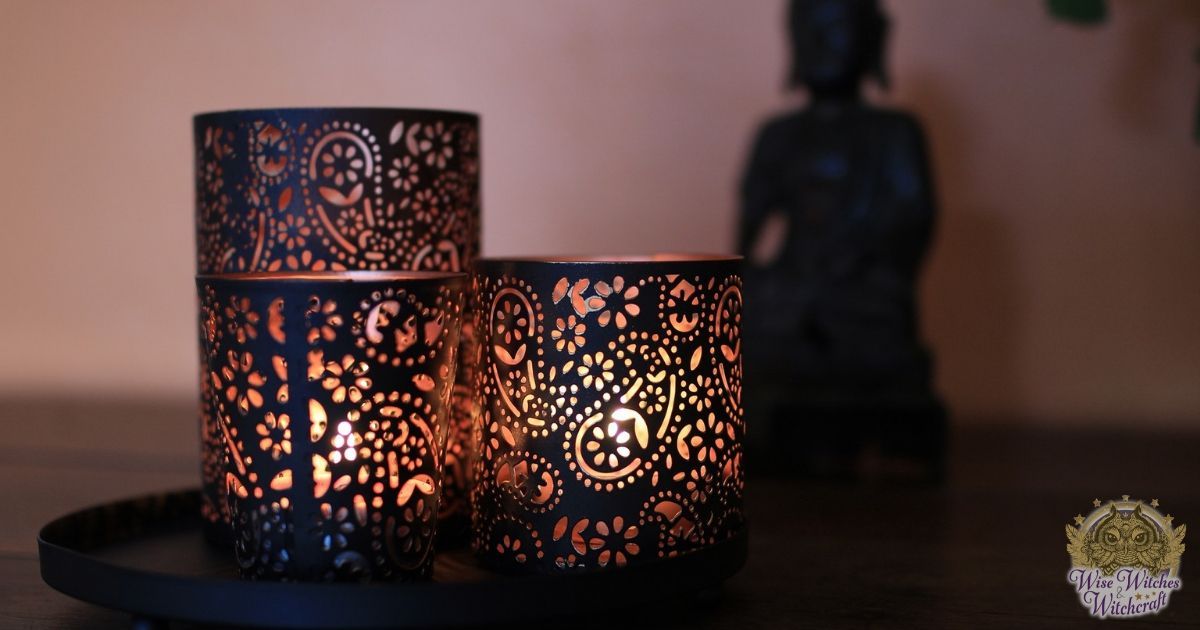 Details, details! It's often the subtle ornamental touches that make an impact during a rendezvous. For example, perhaps you know someone who uses a lot of symbols from Asian Witchcraft. Design an Eastern-themed meal for him or her, complete with a low-level table, pillows, sandalwood incense, Japanese fans, and chopsticks. The effort won't go unnoticed. Remember that thoughtfulness is a kind of magic all its own.
One effective decorating idea is placing candles, crystals, objects, or herbs in the four directional points corresponding to the four elements. Here are two examples of how this might work:
For a romantic engagement:
South: A red candle for the fire element, and for passion.
West: An amethyst for the water element, balancing passion with sensitivity.
North: A bowl of primrose petals for the earth element, encouraging a peaceful, respectful evening.
East: A wind chime for the element air, inspiring harmony.
For a reunion with a friend or family member:
South: A yellow candle for the fire element, stimulating interesting, energetic discourse.
West: A bowl of simmering lemon potpourri for the water element, encouraging cordial emotions.
North: Two turquoise stones for the earth element, generating friendship with firm foundations (When your friend leaves, give him/her one stone as a memento to keep you close spiritually).
East A picture of the two of you placed near a window for the air element, inspiring a fresh beginning.
By setting up the meeting place in this way, you've also created an informal sacred circle. Boost the signal a bit by using an invocation or verse while you set out the objects. Any personal invocation you have for calling the four quarters or an incantation for empowering objects will work. If possible, try to make the verse specific to your purpose and/or the decorative touches.
An invocation for this reunion could go something like this:
East: "Powers of the East, witness my friend and me together with joyful hearts. Renew that joy today." (Put up a picture of you together.
South: "Powers of the South, witness our reunion and reignite the spark of our friendship today." (Light a pink candle).
West: "Powers of the West, witness our hearts and let them sing together friendship's song today." (Put a lemon in the simmering pot).
North: "Powers of the North, witness us. Energize these stones to enhance our connection, our unity, and our steadfast friendship." (Put out the stones).
In this example, move clockwise around your home for positive, growth-oriented energy. If you're meeting someone to break up or clear the air, you may wish to move counterclockwise, decreasing or banishing undesired attention and negativity.
Musical Magick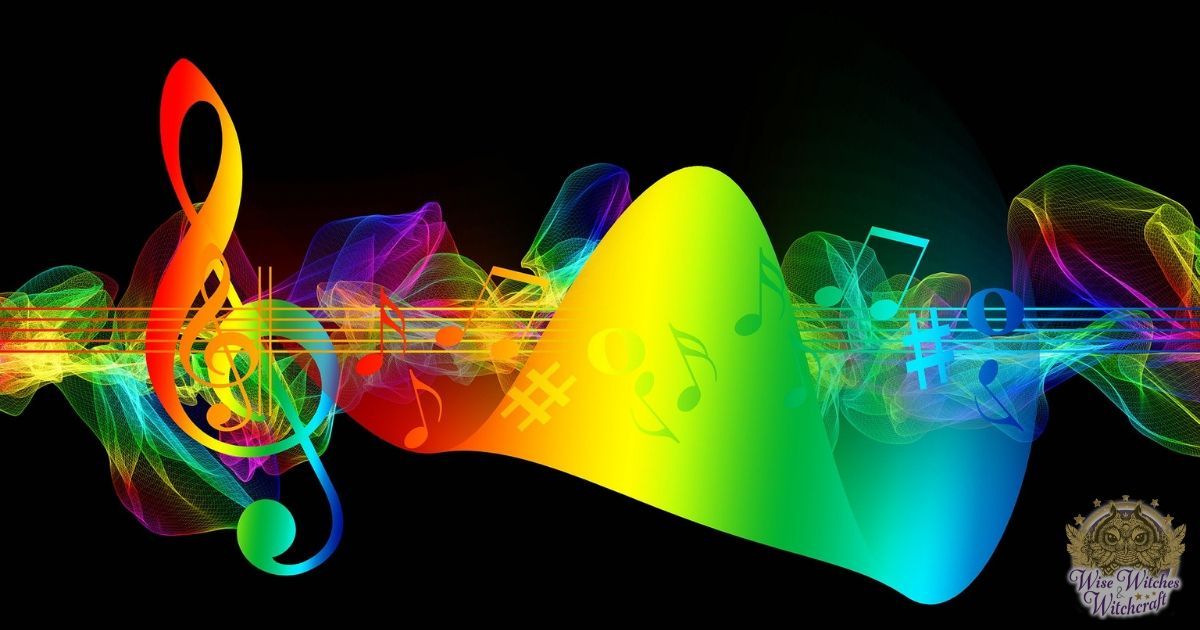 Music is the universal language. It can express many things for which words are inadequate. The music's predominant element creates a specific "feel" acting as a backdrop for the occasion.
Drums are passionate and energizing for almost everyone. Lovers' hearts tend to beat along with music featuring drums alone or music with a strong percussion line. Drums also offer a way of raising a lot of energy.
Flutes or Lutes: Traditionally play the music of love in many cultures. Fairies like flutes and other light music too.
Horns: Are excellent for celebratory occasions.
Brass: Instruments can be romantic, whimsical, or thoughtful, depending on the piece.
Strings: Are best suited to romance or quiet discussions.
Lyrics: Can be meaningful when played at the right moment but distracting if played at full volume during a conversation.
Since musical tastes vary greatly, don't consider the generalizations mentioned above as hard and fast rules. Bear in mind what you and your companion enjoy, and the focus of the meeting. Some New Age music is especially useful for creating a mystical atmosphere without being obtrusive.
Adapted from a "Little Book of Love Magic," by Patricia Telesco. All Rights Reserved.